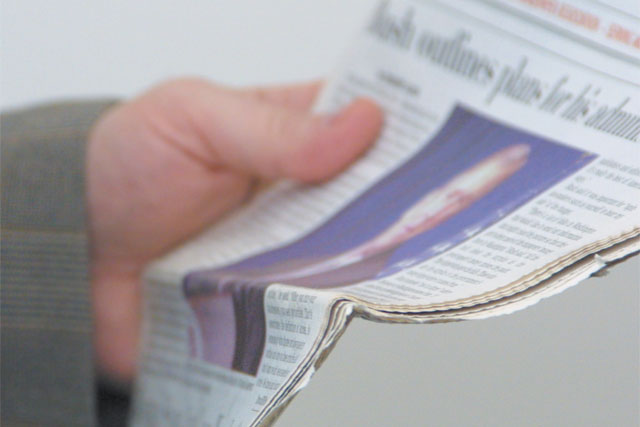 Digital, which in Carat's view comprises search, display, online video, social media and mobile, will take a 15.3% share this year with newspapers on 14.4%.
The latest prediction revises Carat's March forecast, which tipped digital for a 14.5% share and newspapers for 15% this year and put the crossing point in 2013.
Jerry Buhlmann, chief executive of Aegis Group, said: "The trend of audiences moving online shows no sign of slowing down, as demand for online content and the proliferation of internet and mobile access increases."
Having previously expected newspapers to show no growth this year, the forecast is now for a 2.8% drop with a further 1.7% decline in 2013.
Digital has been revised up from 16.5% this year to 17.9% and from 13.5% next year to 16.4%.
Television is expected to grow almost in line with the overall advertising market and retain a dominant share of 46% this year, slipping to 45.6% next year.
Global year-on-year % growth at current prices (figures in brackets indicate previous predictions made in March)

| | | |
| --- | --- | --- |
| | 2012 | 2013 |
| Television | 4.4 (5.5) | 4.3 (5.3) |
| Newspapers | -2.8 (0.0) | -1.7 (1.0) |
| Magazines | 1.0 (1.8) | 1.7 (1.0) |
| Radio | 3.9 (5.3) | 4.5 (5.2) |
| Cinema | 6.2 (4.8) | 5.2 (5.4) |
| Out-of-home | 6.9 (8.8) | 7.0 (9.2) |
| Digital | 17.9 (16.5) | 16.4 (13.5) |
Global % share of advertising spend (figures in brackets indicate previous predictions made in March)
| | | |
| --- | --- | --- |
| | 2012 | 2013 |
| Television | 46.0 (45.9) | 45.6 (45.7) |
| Newspapers | 14.4 (15.0) | 13.5 (14.3) |
| Magazines | 9.4 (9.5) | 9.1 (9.2) |
| Radio | 7.0 (7.1) | 6.9 (7.1) |
| Cinema | 0.6 (0.6) | 0.6 (0.6) |
| Out-of-home | 7.3 (7.4) | 7.4 (7.6) |
| Digital | 15.3 (14.5) | 16.9 (15.5) |
Follow @DanFareyJones