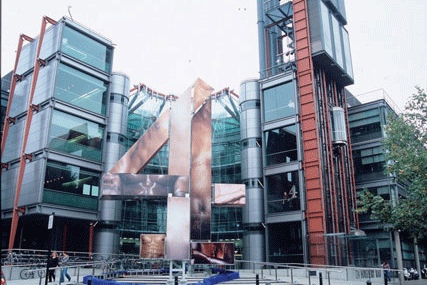 TV advertising revenues at Channel 4 were £706.7m, down 10.5% from £789.7m in 2008, which Channel 4 said amounted to an unprecedented drop but compares favourably to a broadcast TV ad market decline of 11.9%.

Total revenues at Channel 4 were £830.3m in 2009, down 8% from £906.1m in 2008.

Revenues at the core channel were £575.1m, down 14% from £668.7m in 2008. The Channel 4 channel lost £61.6m during 2009, up from a loss of £9.9m in 2008.

Channel 4's digital TV channels -- E4, Film4, More4 and 4Music -- grew their combined share of total TV viewing by 11% to 4.1% and increased revenues to £181.3m, up 4% from £175m in 2008. They made a profit before tax of £53.4m, up 43% from 2008.

Though the Channel 4 channel family's share of TV viewing was down from 11.9% in 2008 to 11.5% in 2009, Channel 4 managed to reduce programme spend by £50.3m, or 8%, to £548.3m in 2009.

David Abraham, who started as chief executive of Channel 4 on 4 May, said: "It's credit to everyone working here that Channel 4 has come through such a sharp downturn with our share of advertising revenues and ratings and our cash reserves intact and that we've continued to deliver creative excellence despite having significantly less money to spend on content."
Revenues at the Future Media division, which includes Channel 4's websites and video-on-demand business, were £32.8m, down 2% year on year, but the division made a profit before tax of £3m, up from a loss of £7.3m in 2008.

Channel 4 said the decline in online display advertising was offset by improved revenues from 4oD, Channel 4's video-on-demand service. 4oD serviced 218 million full length programme views, up 60% compared with 2008.

Terry Burns, chairman of Channel 4, said: "We had no option but to make significant cutbacks in programme investment in 2009 and this inevitably resulted in some dilution of our public impact.

"But Channel 4 continued to make a very significant contribution to the range and quality of British television during the year and to the UK creative economy."

Abraham added: "We have created a stable financial base that allows us to commit with confidence to a fresh round of creative and commercial innovation, renewing Channel 4's schedules post Big Brother and positioning ourselves to take advantage of the opportunities that arise from the ongoing convergence of television and other media."