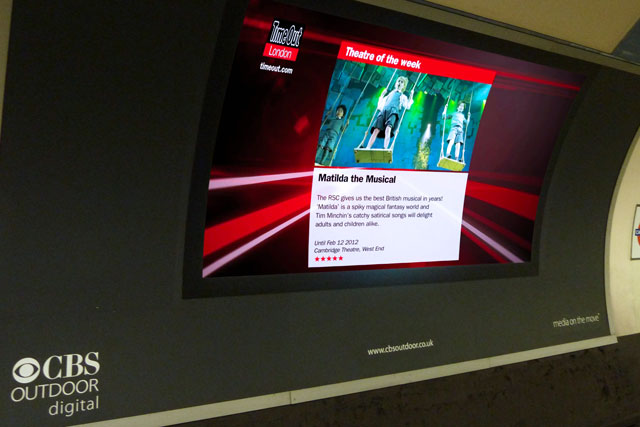 Outdoor commanded £213.2 million in the first three months of 2013, and although essentially flat on the previous year, the performance marks the seventh quarter of consecutive growth for outdoor and has been welcomed by the Outdoor Media Centre.
Revenues in the digital sector grew to £43.1 million, up 21% year on year, as advertisers continued to explore ways to use new sites being developed by established media owners like CBS Outdoor, Clear Channel, JCDecaux and Primesight, as well more specialist owners like Ocean and Amscreen.

Increasingly, advertisers and agencies are seeing a convergent role for outdoor alongside mobile, online and social media.
Within the last decade, digital outdoor advertising has emerged from a nascent space, commanding £11 million in 2003, to take £182 million in 2012 – and is on track to surpass the £200 million mark this year.

OMC's chief executive, Mike Baker, said he was pleased to be able to report growth, which continues a long run of quarterly increases dating back to mid 2011.

He added: "It's very small growth, admittedly, but we are following an Olympic year and we are now running into some very tough comps."

"We are realistic that it will be well-nigh impossible to match Q3 especially and we know that will also impact on the full year number. But the digital growth continues apace, with 21% growth to £43m in the quarter – a fifth of the total spend in outdoor. That's where the most impressive growth story lies."

Sector figures from the Advertising Association due to be published in the coming weeks will confirm whether outdoor has passed the threshold of 10% share of total UK display advertising – a long stated goal for the medium.
Earlier this year the outdoor sector launched its new Route research which promises to reveal new information and GPS-based data into the audiences of out of home. Spencer Berwin, commercial managing director of JCDecaux - the UK's largest outdoor media owner - is set to unveil initial insights at Media Week's Media360 conference on 7 June with BSkyB's director of brand and media, Andrew Mortimer.
More details of Media360 being held in London on 6-7 June at http://www.media-360.co.uk/ For programme details click here