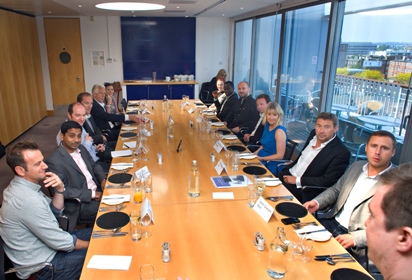 For a long time, digital has been the Jose Mourinho of the marketing mix - the charismatic "special one" that can bend the rules and expects to be indulged by uptight corporate types who don't really "get it".
The latest Campaign digital roundtable has confirmed that those days are over. All the participants agree: digital has grown up and is now an intrinsic part of the way organisations operate. So it must accept the responsibilities and obligations of having a real job to do - it can no longer be the maverick; it has to be a team player.
As brands seek to engage consumers rather than simply broadcast messages at them, digital is key. The opportunities that it offers brands are huge, but the challenges can be daunting, not least in an age when the traditional balance of power between brand and consumer has changed.
Managing the consumer relationship is getting trickier with privacy and data concerns mounting, as Sony PlayStation's recent security issues have shown. In future, consumers will be more protective of their data, Claire Hutchinson, the head of marketing at Eurostar, says: "At the moment, everybody is permissive with their data but it won't continue even if people get value from the relationship. When they realise what is being tracked with location-based tools, it will be a challenge."
The risk of appearing intrusive is very real, Chris Wood, the joint managing director of VML, says. People will give data for a set purpose but when organisations augment the data and make assumptions about the target, it feels a step too far: "Weirdly, the closer we get to understanding people, the more they want to step away from us. Brands get away with more if they behave properly, but merging multiple data streams will make people wary."
Bob Wootton, the director of media and advertising at ISBA, which represents the brands in this client-consumer equation, likens the approach of some digital marketers to turning up to a meeting to find that the other person has Googled you: "It's creepy when brands know so much about you, and they have to respect the consumer's right to unsubscribe. Anybody can send me anything once, but they have to honour it when I say 'no more'."
It seems basic, but the industry is a long way from doing it well. "Brands come from a 50-year tradition of being very boorish, but people no longer have to listen to them," he adds.
In fact, brands can learn a lot by listening to their consumers in social channels especially, Tim Hipperson, the group chief executive at G2 Johsua (UK), says: "Social listening is a huge opportunity. There's no risk in exchanging data because people are freely communicating. The challenge is keeping up and understanding and interpreting what's being said."
There is no doubt that we are spending more of our time online, and brands want to be part of the experience, Graham Hodge, the director of branded content and creative services at LBi, says: "Clients are looking to us to deliver solutions that are more than just websites. They want social currency that people can use, enjoy, play with and share wherever they are spending their digital lives."
Finding the right context to barge into the digital space is the tough part. For Hutchinson, a brand's best chance is to be useful: "You can't assume that people will engage with you. There's a perception that they are obsessed with the latest stuff brands are developing and it's not the case. They have information overload."
Existing agency structures are conflicted by the blurring of lines between design and build, and communications roles as clients find a wider role for digital tools, Richard Neville, the chief strategy officer at Elvis, says: "The industry has to move from being commissioned to do creative stuff to doing useful stuff as well. We've recruited creative people and they assume their job is to produce shiny, pleasing things. Now they need to be functional too."
Nigel Vaz, the managing director at SapientNitro, says this is all part of the growing pains of digital marketing: "Useful is the only thing that digital has to be. Everything else is secondary. If you address their problems, then people will engage with the brand more than if they are forwarded a pleasing, shiny thing in an e-mail to have a half-second-chuckle about."
But how best to deliver this? MBA has reconstructed its creative department around the roles of architects and developers, but Robin Garton, the creative director, admits that there are other options: "Most agencies still come up with an idea in the creative department and then go and talk to the digital people."
At Saint@RKCR/Y&R, more nimble teams and an approach emphasising open source creativity is the key with multi-disciplined teams poring over briefs. The managing partner, Adam Graham, says: "We've found we need to democratise the culture of ideas so there's less protection about whose idea it was. Everyone needs a shared pride in the agency output."
With all these issues, it's no surprise that agencies are struggling with how best to serve clients. Matt Dyke, a founding partner at AnalogFolk, warns clients about throwing the baby out with the bathwater. The most compelling app still has to be discovered and that's where traditional marketing craft comes in. "There's lots of interesting stuff that your target market doesn't have time to find, so brands need to get it talked about," he adds.
Much as agencies obsess about the cutting-edge, Wootton warns that many clients remain behind the curve and they do not necessarily have the same love of kit as the agency sector: "Lots of brands are not cutting-edge and their demand is for slightly stodgier stuff, yet this is where the money is."
He adds that unless the digital sector becomes less "Shoreditch" in its approach, and more understandable to the lay marketer, it risks being commoditised: "If clients don't understand the differentiation between what you are all offering, they will simply go for the cheapest."
Many businesses can't move at the speed of digital. Eurostar, for example, has back-end legacy systems that have to be contended with, Hutchinson says. Although it is possible to build outside of the system and smartphones provide new options, existing systems can't be totally disregarded.
Vaz says organisational maturity is the key. A company such as British Airways could have launched a mobile ticket 12 years ago on WAP, as airlines such as SAS did. But its existing processes and systems couldn't be bypassed: "What happens when the pass doesn't work and you have to train 15,000 agents to deal with it?"
A company may have to work behind the scenes for years before it feels able to launch an app, Vaz says: "BA had to rewire its global distribution systems, its booking systems, and it's all part of the bigger idea of digital."
SapientNitro worked with Times Online as it moved from a 24-hour news cycle geared around a paper product, to near-real-time publishing online. The entire editorial system had to be reconfigured so that however you encountered the product - print, online, mobile, iPad - you had a similar experience.
For Neville, the emerging service design industry offers a new template and opportunity for digital agencies: "Our industry was built to serve a production economy, but 75 per cent of GDP is now service. Digital has service built into it and service design uses the same techniques that digital has at its core, such as user experience, personas, touchpoints and prototypes."
For companies used to the real-world costs of new product development, the speed and cost-effectiveness of introducing new digital services is compelling. However, there is a need to take risks and put things out that are not perfect, the panel agrees.
Rather than being in campaign mode, agencies have to exist in beta, putting out ideas and seeing if they fly, Dyke says, giving the example of AKQA's Star Player Champions League app for Heineken. "They're getting live data back that allows them to optimise it and then on the back of it, you can maybe hang a marketing campaign," he says
Vaz says consumers used to receiving software patches and updates recognise the beta condition if it's clear that brands are learning too. However, they want to know that designing the wider experience of engaging with a company is also being addressed.
The disgruntled airline customer who uploaded the song United Breaks Guitars to YouTube is a classic example of where the caring image a brand conveys in its advertising is jarringly at odds with the reality of its customer service. "Individual customers have a significant voice through social channels and can create a perception around the brand," Vaz says. "What's more impactful now, the ad or the actual experience a real person shared?"
There are plenty of examples of brand failures, but who is doing digital well? For once, there is an outbreak of modesty uncommon in agency land. The feeling is that only the foolhardy claim to have digital down pat.
Neville says some new dotcoms, such as Evernote and Runkeeper, are leading the way in terms of passion and instinctive feel for what their customers want. "I've never received anything from those companies that felt like marketing and yet I feel more affinity to them as a punter than pretty much any brand I can think of," he says.
Vaz says that authenticity and transparency are becoming paramount, which allows companies such as Evernote and Apple to stand out. However, he says that few chief executives would make the claim that they had arrived, digitally, across all their functions.
This is particularly true in social, Dyke says, where brands are now starting to look closely at what their objectives should be for the channel. Until now, it has been about having a Facebook presence and as many "likes" as possible. But to what end? However, the terrain and the tools are becoming more sophisticated.
"'Liking' is a public display of opting in, but it's not recommending," Dyke says. "In recent weeks, you've had the launch of Facebook's 'send' button and Google is launching +1, so it feels like we're moving from a honeymoon period where people have been indiscriminately 'liking' to a point where clever brands will encourage advocacy."
Another indication of digital growing up has been its integration with traditional media. Wootton says the big learning of the past year has been the amplifying effect that digital and TV have when used in conjunction.
The destinies of the channels look likely to be even more closely interlinked as developments in internet TV and media come to light. TV ads can be bought by adWords in the US, the royal wedding was watched by around 400 million people on YouTube, and everyone from software companies to set manufacturers are getting ready for the next generation of on-demand TV viewing.
For Hutchinson, such changes are a great opportunity to target Eurostar's consumers who are light TV viewers. Campaigns will also be able to exist for much longer than the standard campaign push.
Wootton says Sky's targeted substitutional advertising system is leading the way but there are still logistical issues in selling the same spot to different advertisers depending on their viewing habits: "In the meantime there is this torrent of new television delivery mechanisms coming through.
The big question is, are they going to get past the winning tape first? It's a great opportunity for the digitally delivered media which could grow and overtake Sky."
To some extent, the future remains unwritten. But it is ironic that an industry that for so long threatened to overturn traditional forms of advertising now looks to work with them.
A team player indeed.
LUNCHERS
Philip Smith - head of content solutions, Haymarket Brand Republic Group
Graham Hodge - director of branded content and creative services, LBi
Nigel Vaz - managing director, SapientNitro
Stuart Derrick - journalist, Campaign
Robin Garton - creative director, MBA
Bob Wootton - director of media and advertising, ISBA
Sarah Virani - senior account manager, Campaign
Ade Adefala - account manager, Campaign
Richard Neville - chief strategy officer, Elvis
Chris Wood - joint managing director, VML
Claire Hutchinson - head of marketing, Eurostar
Tim Hipperson - group chief executive, G2 Joshua (UK)
Adam Graham - managing partner, Saint@RKCR/Y&R
Suzanne Bidlake - consultant editor, Campaign
Matt Dyke - founding partner, AnalogFolk
(From Campaign's "What Next in Digital" supplement, July 1 2011)