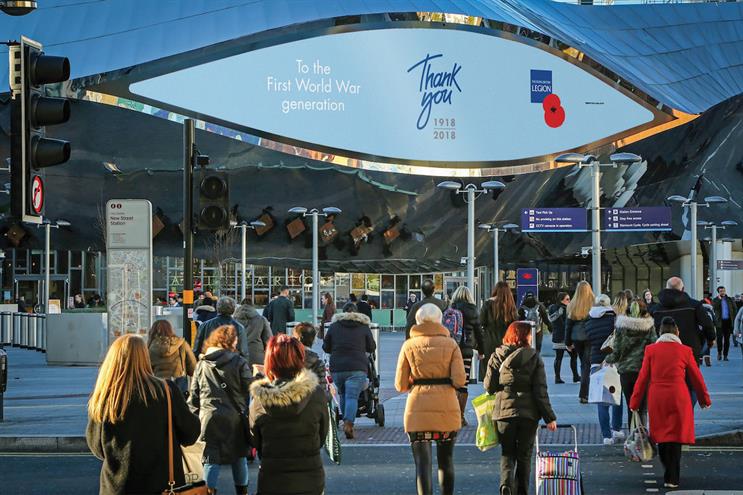 Digital outdoor media is to play its part in commemorating the 100-year anniversary of the Armistice that ended the First World War.
Later today, the Piccadilly Lights will be given over to an hour-long display, while on Remembrance Sunday screens across the country will mark the two-minute silence at 11am.
Between 6pm and 7pm this evening, the famous Piccadilly Circus display will show an hour-long film created by TMW Unlimited for a project led by the site landlord, Westminster Council.
All the screens will turn red and black and the sound of marching boots will be heard. As boots march across the screens, a counter will serve as a visual reminder of the number of lives lost, while a marker will move across the top of the screen to represent the progress of the war from 1914 to 1918.
The screens will also display intimate stories that bring to life some of the individual London and Westminster names and faces behind the shocking numbers.
Separately, on Sunday, The Royal British Legion will display a message of thanks to the First World War generation across the country during the two-minute silence.
Six out-of-home media companies have donated space for the effort: 8 Outdoor, Clear Channel, Elonex, Maxx Media, Ocean Outdoor and Outdoor Plus.
The message from the charity, which handles the annual Poppy Appeal, recognises the sacrifices made and legacy left by the World War I generation. The work was created by Leagas Delaney and media is handled by VCCP Media.
Catherine Davies, head of remembrance at The Royal British Legion, said: "We are very grateful to VCCP Media and the outdoor companies for helping us to thank the entire First World War generation who served, sacrificed and changed our world."