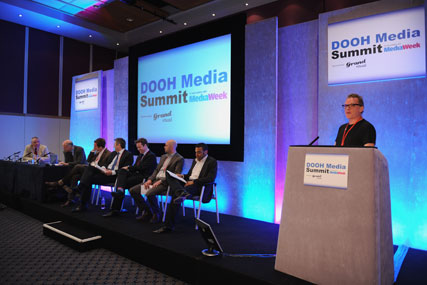 Charlie Newbery, marketing manager at The Sunday Times, said one of the most significant challenges facing the digital out-of-home sector is the emergence and growth of new media platforms.

Newbery said: "Marketing budgets are not going to double in the next three years. The pot is very fixed. The outdoor industry needs to have clear view where increased share is going to come from. Five years ago outdoor was stealing a march but consumers flock to new things.

"The focus is now on iPads, 3DTV and Apple apps. The reality is that outdoor has ground to catch up. If the digital out-of-home contractors want to steal share they are going to have challenges."

However, other panellists highlighted the value of the accountability digital out-of-home can offer.

James Davies, director of innovation at Aegis out-of-home agency Posterscope, said: "We can now optimise campaigns while still running. As a plan starts you can measure it in real time which allows you to take more of a refined approach."

Rob Atkinson, managing director of outdoor media owner Clear Channel, insisted the sector was increasingly accountable. Atkinson said: "We are improving our understanding of medium, and research recently conducted by Clear Channel and WPP out-of-home agency Kinetic showed strong levels of customer and consumer engagement."

Clear Channel will expand its digital footprint this year. Atkinson said: "We will carry on investing in digital. We are planning to launch a second national digital network to complement our existing digital malls and premium portfolio."

The copy used for digital out-of-home ads can range from shortened TV ads to digitised static posters which Steve Parker, managing director of Publicis media agency MediaVest, said can be a problem for the sector.

Parker said: "Let's move away from being a culture that's about poster drawing to a culture that's about interaction. Only when do that will digital outdoor be considered further up the queue in comms planning."

But the final member of the panel had a word of advice for those wanting better creative work from agencies. Wayne Brown, deputy managing director at Glue, said: "Stuff takes a lot of time, so remember to brief your agencies early and I promise you they'll do better work."