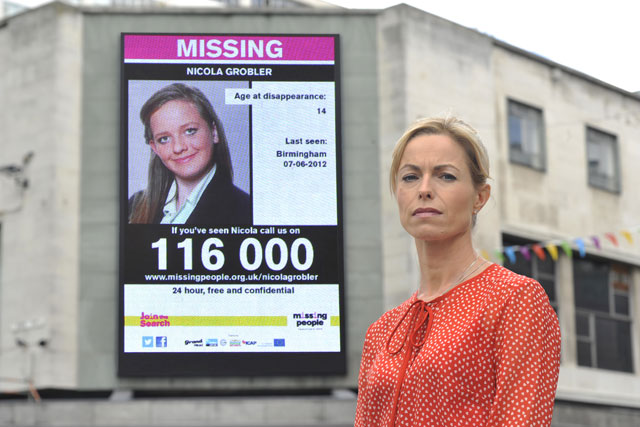 The initiative was conceived by industry body the Outdoor Media Centre (OMC) and will allow the charity Missing People to publish appeals about missing individuals and raise awareness of its new telephone number, 116 000.
Around 6,000 screens owned or managed by 10 outdoor media companies will be available for appeals, which can be regularly updated thanks to technology provided by Grand Visual.
The campaign was launched today (10 July) by Kate McCann, the mother of missing child Madeleine McCann, in her first official role as ambassador of Missing People.
It is predicted the appeals will reach more than 10 million adults over the summer.
According to Mike Baker, chief executive of the OMC, the 12-week period is intended as a "minimum commitment" from the industry.
Baker credited his operations director Bill Wilson with the idea for supporting the charity.
Wilson said: "Outdoor advertising is able to reach a mass audience again and again, so it's really the perfect medium to help the authorities find some of the missing people, whose stories are so important, but too often slip under the radar.
"The Outdoor Media Centre and our members feel strongly that we can make a difference to the hundreds and thousands of families who are living each day not knowing when they'll see their loved ones again."
While this is not the first time outdoor industry has supported missing people appeals, previous efforts to help have been limited to individual companies such as Clear Channel and Admedia.
The OMC's initiative also harnesses the strengths of digital outdoor media displays.
Neil Morris, founder and managing director of Grand Visual, which is also donating its services, said: "The digital out-of-home market is now at a stage where it can really deliver on its key strengths – its ability to react in real-time with relevant copy to a broadcast audience.
"It is the perfect platform for the Missing People's initiative – allowing the charity to manage and deliver this impactful campaign from their desktop computer and publish it instantly to a nationwide audience."
The list of companies donating space includes Ocean Outdoor, CBS, Clear Channel, Primesight, JCDecaux, Amscreen, Outdoor Plus, blowUp, Forrest and Eye.
Follow Daniel Farey-Jones on Twitter @danfareyjones