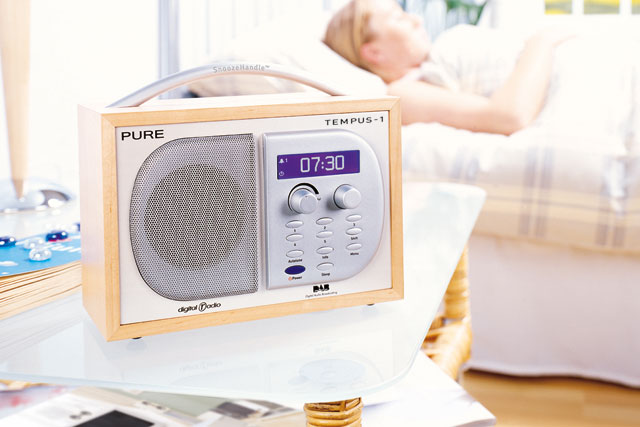 The question of how to make the transition to a digital future troubles all traditional media. Radio is no exception. Some 16 years on from the first DAB transmission, the platform accounts for less than 20 per cent of listening.
Given the dithering over the strategy for digital switchover, the radio industry seems to now accept that its future does not lie solely with DAB sets; instead, multi-platform listening is the way forward. This thought was crystallised last year, when a number of commercial radio groups refused to carry ads promoting the DAB platform.
To this end, last week, the radio industry, under the auspices of Digital Radio UK and the BBC, handed Rainey Kelly Campbell Roalfe/Y&R a £10 million ad campaign to promote all forms of digital radio.
The first phase of this year's ad campaign will run from early December and will span TV, radio, newspapers, magazines and online. As a collaborative effort, it signifies the industry is working towards some sort of consensus.
1. The DAB platform was conceived and tested in the early 80s as a replacement for analogue radio transmission. The BBC started experimental transmissions in 1990 and the first permanent broadcast in 1995 in London. Following the 1996 Broadcasting Act, commercial radio companies have expanded into the format.
2. Digital One was licensed to GWR (the then owner of Classic FM and now part of Global Radio) in 1998 and began broadcasting in 1999. It is still the only national commercial radio multiplex. Today, it is owned by Arqiva and transmits 13 radio stations: including Classic FM and four services from Absolute Radio.
3. In the middle of the last decade, there were plans, promoted by figures such as Ralph Bernard (as the chairman of GWR and then the chief executive of GCap Media) for a second commercial national DAB multiplex.
It was won by the Channel 4-led consortium 4Digital Group in July 2007. By February 2008, things had changed and Bernard's successor, Fru Hazlitt, pulled GCap out of all the digital radio commitments it was not contracted to. Then, in October 2008, Channel 4 announced it was pulling out of radio.
4. In January 2009, the preliminary Digital Britain report recommended a migration to DAB after 50 per cent of all listening was through a digital platform and DAB coverage matched 90 per cent of FM. The final report in June 2009 said 2015 should be the date when stations that transmit on FM and DAB turn off their analogue signal.
5. In the end, the Digital Economy Act did not specify 2015 when it became law in May 2010. Instead, it concentrated on "providing arrangements to help ensure that radio stations and infrastructure are prepared for digital switchover". Provisions in the act allowed radio companies to merge local and regional stations and massively reduce the cost of their analogue licences in return for broadcasting a service on DAB.
6. Sparks flew when, in protest to the lack of provision for local DAB in the licence-fee settlement, the commercial radio trade body, RadioCentre, refused to attend a government meeting on DAB in October 2010. Then, in November, Global Radio and GMG Radio refused to carry the annual Christmas ad promoting DAB.
7. On 31 March, senior industry figures agreed the cost of local DAB would be shared three ways. The intention is that the £20 million to £30 million cost will be divided equally between the BBC, the commercial sector and the Government.
8. On the same day, the arrival of UK Radioplayer provided a common format for internet listening. Although Rajar suggested internet listening declined period on period in the first quarter after it was introduced, UK Radioplayer claimed to have 6.7 million listeners in August, up from 5.7 million between 25 April and 16 May.
9. At a session for the motor industry last week, the Culture Minister, Ed Vaizey, said the 2015 deadline "still has an important purpose". The BBC got more praise by repeating its commitment to fund the roll-out of national DAB. The car industry expects to reach its DAB targets and predicts 50 per cent of new cars will have DAB radios as standard by 2013.
WHAT IT MEANS FOR ...
Advertisers
- The uncertainty over DAB funding only affects advertisers indirectly, as additional costs could mean there is less money to spend on programming. That said, the Digital Economy Act has reduced the cost of analogue licences and allowed radio groups to invest in fewer higher-quality stations, such as Global Radio's Heart network and GMG Radio's national Smooth station.
- The uptake in internet listening since the arrival of UK Radioplayer means better opportunities for brands wanting to combine on-air with online. Last week, Absolute Radio unveiled a redesigned player to allow brands to link up visual ads with on-air promotions. Although radio groups have not set up a combined sales force to sell across the network, they have said they are happy to work together.
- Radio audiences are higher than ever and, whatever format the listeners are tuning in on, this is good news for advertisers.