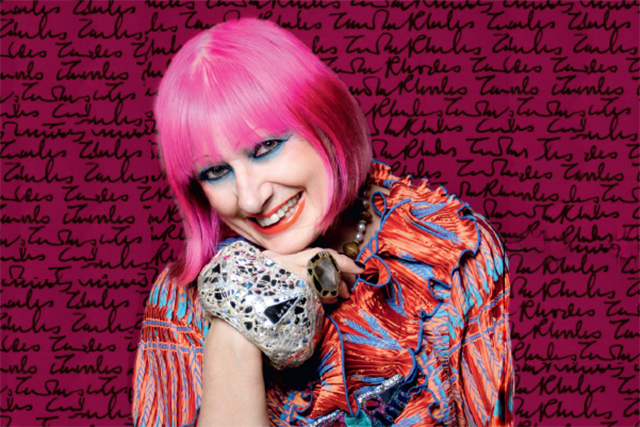 I am inspired by what I see around me, especially when I am lucky enough to travel and escape my regular environment. I find my daily surroundings, with the humdrum of everyday tasks, can hold me back and divert me away from design.
But when I travel and nobody can get hold of me, I feel I am free to allow my mind to wander and follow new paths.
With a high-profile career it is particularly important to find a means to hide away and be creative, to be in a space where my mind can be calm and unbothered, away from pressure.
I love to stroll around museums, pausing to draw in my sketchbook. When accompanied by my close friend, the artist and sculptor Andrew Logan, we stop together and he paints his watercolours as I sketch. To me, the things I see and capture in my sketchbook have a deeper meaning than a simple photo.
The computer and the digital revolution has damaged creativity
I then take photographs of my sketches, blow them up and put them on the walls in my studio. I live with them, and I find the creative inspiration hidden in them gradually comes out.
To me, it is very difficult to develop a creative idea. It takes time and it takes hiding away.
I experiment with shapes, making toiles to see how a new, unfinished textile print will perform and whether it will be effective.
My experience in set design and costume for the opera has widened my vision and enabled me to see clearly how a print can create a dramatic statement, with little alteration. Through time, it isn't creativity that changes and shifts, but the way things are looked at.
Evolution of trends
Fashion is ever-changing. Ideas come from all different directions. But in the world of printed textiles, the computer age has transformed the speed both of creating the design and bringing the textile to its printed form.
Development time may have been halved, but the new digital designs are more obvious and they lack repeat ingenuity. As a result, students entering the world of textiles today, in my opinion, still have much to learn in the field of printed textiles.
I think the computer and the digital revolution has damaged creativity and drawing in textiles. It is too easy to lift photographs. It is too easy to mirror images to create repeats.
Creativity will evolve on two levels – artistic and 'space age'
As a result, motifs today are merely repetitive. It is impossible to foresee in which direction creativity will head because the whole world is in a state of flux.
The langauge of creativity
Will hand-drawing disappear? Will it be more valued? Will these skills continue into the future or will they become a rare art form? Computers mean that there are now two languages. The one we create with our hands, and language that evolves from the computer.
Technology produces a different kind of art, and fashion drawings will become two different things – from those who can draw and those who create strange, computerised images.
Creativity will evolve on two levels – artistic and "space age". In the US, the language we create with our hands is already being heavily eroded as computers become a way of life.
Students do not have the same co-ordination between the hand and brain. So in the future, it will be a different kind of art.
My revolution initially was in large printed textiles being and forming the finished shape of the whole garment.
But in future, creative influences will come from the East – from China and the areas that surround her, just as when Japan opened up in the early 70s, inspiring the Issey Miyake shape and pleating revolution.
One thing is certain, the youth of the future will have new ideas of beauty that will not be the same as ours.