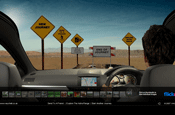 Evangelou will report to global chief creative officer, Mark Beeching, and oversee all creative work coming out of the London office. He replaces Chris Clarke, the former Digitas London president and executive creative director, who quit in June last year to join Lbi.
Evangelou will head the Digitas creative department and work across accounts including Vauxhall (General Motors), Delta and Procter & Gamble. Previously, he has created digital campaigns for brands including Land Rover, Orange and Adidas.
"Sav has a proven track record of creating visually stunning, innovative campaigns while simultaneously delivering results, said Beeching.
Evangelou said: I look forward to joining the Digitas team and lending my talents to their prestigious roster of clients.
Prior to joining Wunderman, Evangelou worked for the BBC's commercial online division as creative director for beeb.com.