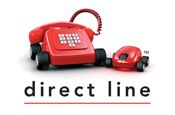 The M&C Saatchi ad featured a sports-style commentary, describing how a vandal got to work on a parked car.

It contained the line: "John is brilliant as a vandal, the way he cuts the paintwork using a key is Picasso-like and he runs over a whole car with ease, leaving only his trainers' footprints as a signature and could smash a window with a brick from eight feet. Now that's a talent."

The ad watchdog received 33 complaints that the ad glorified and encouraged vandalism, particularly among adolescent boys.

But a judgment today rejected the complaints, saying: "The ASA noted that the radio stations which broadcast the ad were not targeted at teenage boys.

"We considered the light-hearted tone of the ad was likely to be understood by most listeners as being ironic in nature and that it was not condoning or encouraging violent behaviour."