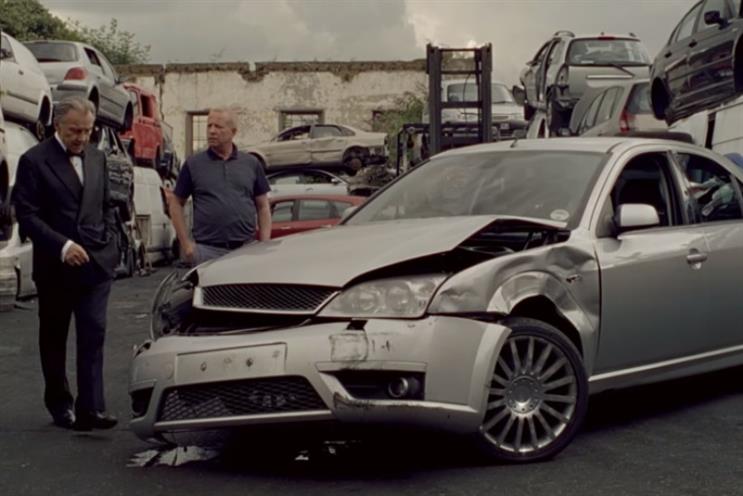 The insurance sector is in need of a reboot. The rise of price comparison sites, Evans asserts, have created a commoditised marketplace where consumers care little about anything other than price.
Insurance started out in the world as something good but it got lost along the way
Comparethemarket.com and Confused.com have taken a sizeable bite out of the market. In the 1980's Direct Line was unique and innovative as the first direct insurance seller. But now some of that uniqueness has been lost; the brand, alongisde other providers, is struggling for relevance in an industry where cuddly toys and robots have created an almost exclusively price-driven sector.
Direct Line as the ultimate fixer
Direct Line refuses to list on comparison sites because, as Evans says, they target the "least valuable" segment of the market. He is critical of the way these brands use to lure customers in by offering Meerkat and Brian the Robot toys - though some of Direct Line Group's other brands - Churchill, Privilege and Green Flag appear on the sites. However he shakes off the suggestion Direct Line is trying to fight against comparison sites, instead saying he is positioning Direct Line instead as a brand of "substance".
Against the backdrop of fierce pricing tactics, Evans is trying to get consumers to reappraise the brand and think of Direct Line as an insurance company that fixes things when they go wrong, with hassle free procedures and good customer service to boot.
It's one of the least tangible things in the world. There's no physicalisation of the brand
Cue Winston Wolf. The character might not resonate as clearly with those who haven't seen cult classic Pulp Fiction, but the concept that the character is designed to embody is still there.
The character, played by Harvey Keitel, helps dispose of a dead body in the film. Resurrected in Direct Line's TV £40m ad series, he helps "solve problems" for insurance customers. The ads promote new offers available through Direct Line including a photo diagnosis service enabling customers to speed up the claims process.
Breaking Bad set the tone for dark humour
Since August, Keitel has featured in Direct Line's ads and he's signed to appear in more. The campaign creatives echo the darkness of Wolf, helping consumers get rid of smashed up cars and make problems "disappear".
The story Evans is trying to build around the brand is one where consumers can rely on Direct Line for hassle free help, any time. It aims to reframe the provider as a "fixer".


An unusual choice of brand mascot for an insurance brand but curiously Evans points to the phenomenon of American drama Breaking Bad for helping set the tone for dark humour. He also says positioning insurance as a fixer makes sense.
"The whole industry has seen of itself being about protection, but that's a load of codswallop because we can't stop things happening in the world. Ultimately our role is to put things right when they do go wrong – to be fixers," he says.
"The Winston Wolf campaign has proven to be really strong and it's testing in the top 2% of the campaigns we've tested - in terms of brand metrics its great, and from a sales point of view there's a notable uptake in trading performance. Of all the campaigns that our ad-tracking agency has seen across all sectors we're in there with Coke and Nike and Apple.I mean, who would have thought? Frankly it's exceeded our expectations."
The Breaking Bad phenomenon brought darkness to the fore
He said the "reboot" of the industy was a marathon rather than a sprint, with "years" of negative customer perceptions to undo but that the Winston Wolf campaign had helped create a brand with more "mojo and oomph" and with better social media engagement.
The challenge with driving loyalty
He credits the popularity of Breaking Bad and shows like The Sopranos with creating a cultural environment where consumers engage with dark comedy and drama. In pre-launch focus groups, the concept of dark drama clearly resonated, he said.
"I watched [Breaking Bad] in about four weeks – it's more addictive than methamphetamine," he jokes, illustrating how much it gripped the public conscience. "It's left a big hole in my life.
"The Breaking Bad phenomenon has really helped us because it's brought darkness to the fore and I've never been in research groups like it. It has helped put people in a frame of mind for dark humour."
But the fact remains that insurance is, in Evans' own words, a bit like a vaccine. In fact, it's "worse than a vaccine" he points out, because at least after a set of injections you "get to go somewhere nice".
It is also one of the "least tangible things in the world", which makes it difficult to drive loyalty. But where the likes of Comparethemarket.com and Confused.com have employed cuddly toys in an attempt to physicalise the brand, Evans has instead developed Winston Wolf, postitioning Direct Line as "the daddy of all fixers."
Loss of trust
Evans is clear he does not support encouraging consumers to "make decisions based on a cuddly toy". He says that doing so erodes trust in a sector that is already one of the least trusted in the UK.
"Over the course of the last 30 years the market has been commoditised quite significantly and very price orientated, making the consumer think: why should I care about brand A or B, why don't not just go and get a nice meerkat from compare the market?
But synonymous with that has been a loss of trust and perhaps even more than apathy – people dislike the insurance market."
Insurance has, he says, a better story to tell than just price. It started out as something good, as "the many helping the few" but "got lost along the way.
"It's got to make up some ground with consumers."
---