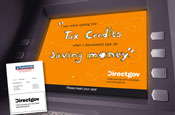 The creative, screening on about 1000 cash machines across the UK, will give users tax credit advice and money-saving tips during transactions. Printed information will also appear on every customer receipt.
Maxine Mackenzie, head of marketing at Directgov, said: 'This campaign will deliver advice to a huge audience. We wanted to explore a dynamic and relevant way of promoting our campaign, and we chose ATM digital advertising after a recommendation by the COI.'
Jack Vincent, business development director at ATM:ad, said: 'Government departments are becoming more aware of the power of reaching the public through ATMs. And by promoting government awareness campaigns, banks can also ensure their customers are exposed to important messages.'
The campaign was booked by Posterscope. ATM:ad's clients include British Airways, easyJet, Orange, Nivea, New Look, Orion and the COI.
Directgov, which launched in 2004, offers public service information on mobile, digital TV and online at its website wwww.directgov.uk, which attracts more than 7m visits a month.