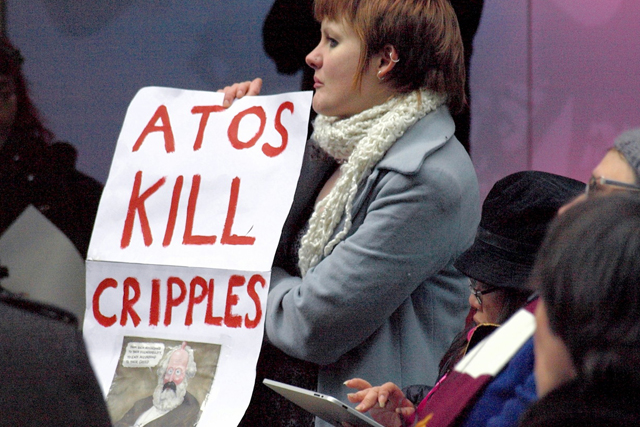 The social media campaign is due to launch the week before the start of the Olympics and will express the pressure group's objections to Atos Healthcare's role in the controversial Work Capability Assessments (WCA).
Atos Healthcare has worked with the Department for Work and Pensions (DWP) for more than 10 years to perform medical assessments for disability benefits.
Atos is the worldwide information technology partner for the Olympic Games and has been involved in all previous Olympic Games since 1992.
Its contract with the International Olympic Committee also covers the Winter Games in Russia in 2014 and the Summer Games in Brazil in 2016.
DPAC will launch the campaign on its website and will push out its message through social media sites including Twitter and Facebook, encouraging the public to email their objections to Atos chief executive Thiery Breton.
Objections will also be raised over Atos' use of former Olympian Steve Cram as a Paralympics ambassador.
The pressure group will also hold an "open-air memorial" service during the Olympics in London at Triton Square, the location of the Atos headquarters, in memory of the thousands of alleged Atos "victims".
In a statement, DPAC said: "We are against the sponsorship as this money is effectively blood money, drained from the UK Disabled Community by disability deniers through their actions in removing benefits from disabled people.
"Our consistent call has been for the removal of the WCA and restoration of all lost benefits that people have had stripped from them through inaccurate assessments which are made by health care professionals who often have no medical knowledge of people's conditions and life circumstances."
An Atos spokeswoman stressed the company is "part of a much bigger process" and highlights how its medical assessments are sent to the DWP, which are considered alongside other medical evidence from consultants and GPs to decide who receives benefits.
She said: "We completely understand it's a very emotive issue and the people can be very vulnerable people and we are very aware of that as a company.
"It is not really Atos Healthcare removing benefits, all of the decisions about benefits are based at the DWP.
"We are audited and reviewed by the Department for Work and Pensions and independent review panels continually and have been found to be providing a high standard of service.

"As a Worldwide IT Partner to the Olympic and Paralympic Games we are committed to delivering the technology that will help ensure a successful Games and are proud to be a sponsor."
DPAC claims more than a million disabled people who are too ill to work face losing their benefits or have already lost them due to the inaccuracy of the assessments.
It cited an alleged case of a man in Dundee who was found fit to work despite being deaf, blind, tube-fed and needing 24-hour care.
Atos carries out more than 11,000 assessments a week and according to figures published by the DWP around 9% are overturned at appeal.
Follow Matthew Chapman at @mattchapmanUK