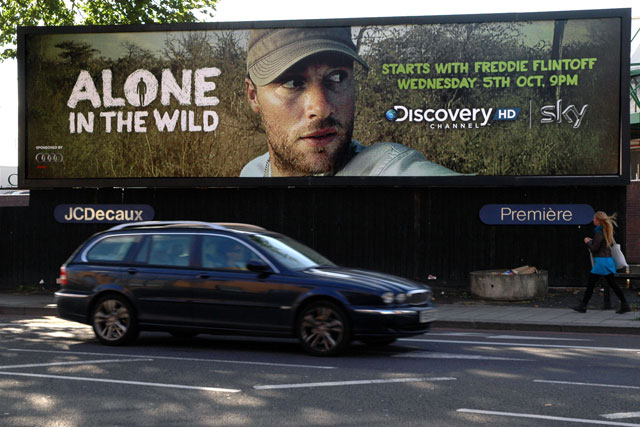 The programme is a new commission for the network. It sends eight personalities, including 'Dancing on Ice' judge Jason Gardiner, to live alone or in pairs for seven days, with a camera to record their experiences.
The first episode of the show, staring former cricketer Freddie Flintoff, will be broadcast simultaneously on Animal Planet, DMAX, Discovery History, Discovery Science, Discovery Shed, Discovery Turbo, Home & Health, ID (Investigation Discovery), Real Time, Travel & Living as well as the main Discovery Channel.
The Flintoff episode will be broadcast at 9pm tomorrow night. The remaining five episodes will air on Discovery Channel on consecutive Wednesdays for five weeks.
'Alone in the Wild' is being supported by a national above-the-line ad campaign across TV, radio, print and outdoor by Hypernaked and the7stars and with digital activity by Online Fire.
As part of the digital push, the stars of the shows will take over the Discovery Channel UK Twitter feed (@DiscoveryUK) during the evening of their episode's first broadcast, to answer viewers' questions.
Simon Downing, vice president of marketing communications for Western Europe at Discovery Networks, said: "By launching the series across our factual, lifestyle and entertainment channels, we are giving a broad range of audiences the opportunity to experience this new survival series which explores how eight very different personalities cope with the solitude of the wild."
'Alone in the Wild' will be promoted through competitions in partnership with pay TV operators Virgin Media and BSkyB. A Facebook competition will also offer viewers the chance to nominate a friend for an "action packed" trip to Morocco.
Follow @MaisieMcCabe on Twitter