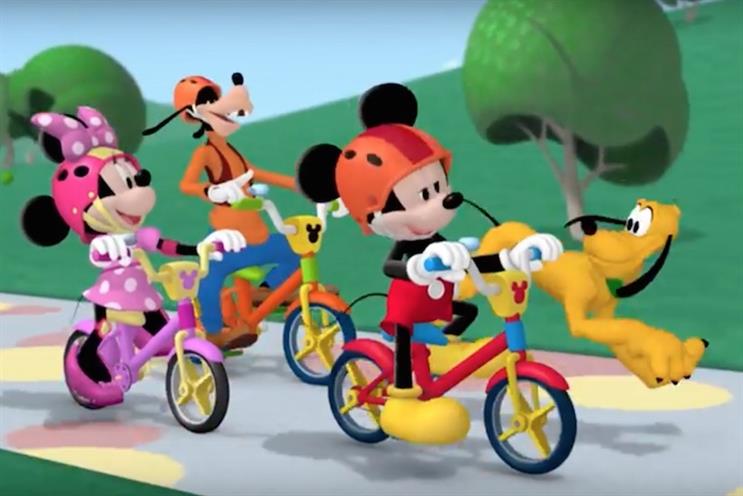 The media giant is today launching #HealthilyEverAfter, a push to reach two-thirds of mothers in Britain through TV and blogs to show its commitment to fight child obesity.

Over the past year Disney has been looking at wearable tech in the UK; in March 2015 it challenged software developers to use its IP to build a tool promoting healthy living.

Matt Carroll, director of Disney Interactive, told Marketing at the time: "We would be excited if there was something with wearable tech, so using a physical device with a digital output."

A Disney spokesman told Marketing today that he could neither confirm nor deny that the new campaign was paving the way for a Disney-branded wearable or activity tracker.
Disney's MagicBand
Disney already uses wearable tech in its Walt Disney World Resort in Florida, in the form of the MagicBand wristband, which acts as a ticket, hotel room key and wallet.

The company has also been using its marketing muscle to support healthy living messages in general, for example, teaming up with the government's Change4Life healthy choices campaign for the past two years.

However, the #HealthilyEverAfter campaign is a step change in that it stands alone and sees Disney make a concerted effort to influence mothers through a tie-up with blogging network BritMums.

A central 60-second TV ad intersperses scenes from Disney movies showing characters exerting themselves with scenes of families enjoying exercise, such as swimming, together and this idea feeds into six more films.


In addition, 20 vloggers in the BritMums network will talk about the challenges they face when it comes to encouraging their children to live healthily, and how storytelling, imagination and play can help them address these.

Anna Hill, chief marketing officer, Disney UK & Ireland, said in a statement about the campaign: "We know parents can find it a challenge to ensure their children are eating well and being active - and when they are trying to get their whole family to develop good habits, we believe Disney can help make it fun and simple.

"The #HealthilyEverAfter campaign uses the power of our stories and characters to inspire these behaviours and encourage parents to share their tips with other families around the UK. In the coming months and years, we will continue to try to do our best to help families in the UK live more healthily."

Disney's healthy living commitment dates back to 2006 when it established clear nutritional guidelines for partners using its brands and characters.

It has increasingly moved its messaging from defensive – fighting off accusations it was encouraging children to consume junk food – to actively encouraging healthy choices.

In 2011 it created a "Mickey Check" tool, an icon that signalled nutritious food and menu items sold in stores, online, and at restaurants and food venues at its US resorts.