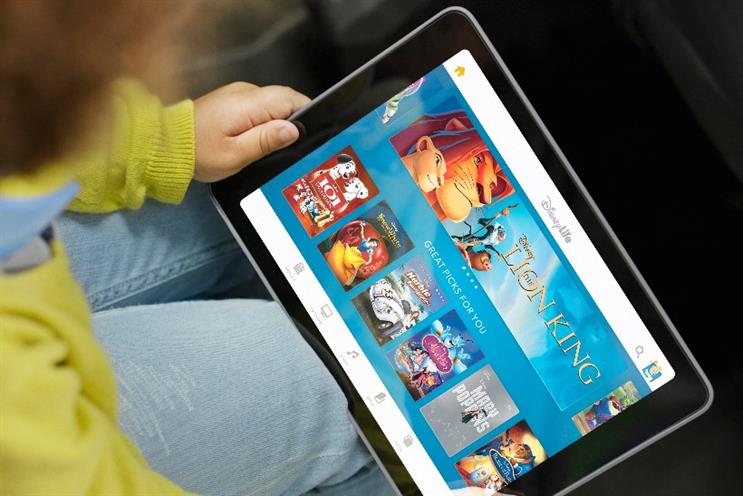 Called DisneyLife, the streaming service costs more than a monthly subscription to Netflix, which starts at £5.99 a month, or Amazon Prime, which costs £79 a year. It also follows the arrival of Google's child-friendly version of YouTube, YouTube Kids, in the UK.
Some of Disney's best-loved animations are available to stream, including The Jungle Book, the Toy Story trilogy and The Lion King.
Notably though, there's no Frozen, though the eight-minute 'mini movie' Frozen Fever is available to stream, as well as the soundtrack. A spokesman for Disney said the film would be available in spring next year.
Disney also appears to be using DisneyLife as a marketing channel to promote upcoming releases.
There is a prominent banner promoting The Good Dinosaur, a Pixar animation which will hit the cinemas on Friday (27 November). Clicking through brings up a number of trailers and featurettes to whet viewers' appetites and, no doubt, give children some pester power.
Download on the go
One reason the service is so pricey is that Disney is offering multi-user accounts, with up to six profiles per account, pairing with 10 devices, unlimited streaming and the ability to download shows to tablets or phones for watching on the move.
Disney also promises there'll be no "in-app purchase costs", meaning there won't be any sneaky charges for extra features. Parents will also be able to set time limits on viewing.
The service is available on Apple's App Store and Google's Play Store, and through a dedicated site. Members will also get one free app download a month, meaning they can download Disney apps which usually cost a fee.
When tested by Marketing, DisneyLife didn't appear to be fully functional on the Chrome browser, with no search available, and a number of cutesy error messages.
Users can sign up for a free month, but will have to fork out the £9.99 monthly fee once that's up.
Paul Brown, general manager for DisneyLife UK, said: "Our team has worked tirelessly to create a personal, intuitive and unique experience for the whole family. Disney means something different to every parent and child and now with DisneyLife, we are handing over the keys to them to explore the ever expanding digital world of Disney - wherever they are, and whenever they want."