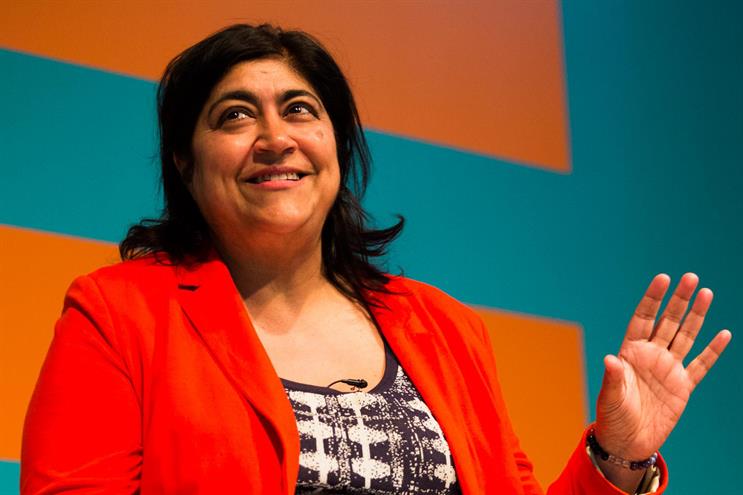 Speaking at the Creative Equals Future Leaders conference in London last week. the Bend it Like Beckham director said: "Diversity isn't about sticking a woman of colour on a panel or a committee. It's the very upper echelons [of business and society] allowing genuine, authentic honest voices and experiences to be heard and listened to"
In an energetic discussion with Chaka Sobhani, chief creative officer of Leo Burnett, she said: "Everything I do is taking what people expect and doing something different, like making an Indian girl the centre of a film about football. I do it to say: 'you got it wrong, you got me wrong, and in doing that I'm able to change perception."
Chadha, who said she is the only female Asian director consistently making feature films in the UK, said: "We still have to fight tooth and nail not just to have our voices heard but to have our voices heard in their full complexity."
Untold Stories
According to Chadha, the industry is not seeing so much amazing storytelling, simply because business as it stands is not allowing those voices to be heard. She said: "If you want to see the world from our point of view, it means its not your point of view. We need people in positions of power to see the merit in stories that are not their own".
She revealed it took four years to get Bend it Like Beckham financed and urged the audience, primarily made up of female creatives, to create their own paths to success.
Explaining how she got her new film Blinded By the Light, a comedy drama which features the music of Bruce Springsteen, made, she said: "This film only got made because I pushed for it to happen. I've always had a eye on marketing with everything I do."
She added: "What is really fucking us over right now is Trump and Islamophobia, so I wanted to make a film about that and then also Bruce Springsteen. For me it was an inspiring way of taking 'Muslim' which is 'the other' and making it mainstream through the music of Bruce Springsteen."
The power of the collective to drive change
Commenting on how she drives diversity in her own films, she said: "I try to make every department be accountable [for the diversity of the teams]".
Pointing to the huge cultural impact of the #MeToo movement, Chadha urged the industry to come together as a collective and powerful force for change.
She explained: "That #MeToo campaign is phenomenal. The thing is when we come together collectively and that is the real power. When we come together collectively that is where change happens."
This push for progress can also happen at a micro-level and she urged the audience to forge groups of supporters to strategise and talk with, when they are faced with the everyday challenges of being a female creative, such as someone else taking credit for your idea or your work.
She said: "You need a group to support and strategise with. Ultimately you have to go into the fray and challenge. It is hard to challenge as an individual you have to challenge as a group."
Urging the audience to push for what they want publicly, Chadha added: "Ask yourself where do you want to be in five years and put it out there so you can work towards it."