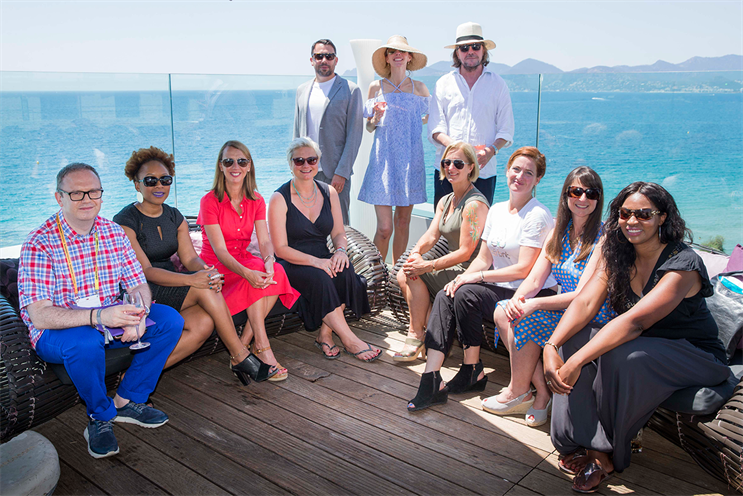 The diversity issue is acute in our industry. There are strong business and social cases to tackle it. Companies with more diverse workforces are 45% more likely to grow their market share year-on-year according to a recent Harvard Business Review study. And marketers have a responsibility and power to shape society for the better.
Campaign and Engine gathered leading CMOs and senior marketers in Cannes to end the diversity debate and turn the talking into action.
Why? Because as AirBnb's global marketing director Alex Dimiziani says: "As media investors we really have a responsibility to normalise diversity in media."
Global leaders at brands Airbnb, Mars, Johnson & Johnson, CoverGirl and Monster Worldwide pledged their commitment to drive tangible change – internally and externally – and a determination to work with agencies to make it happen quicker.
In 2002, Engine Europe and Asia CEO Debbie Klein wrote the IPA gender report, where women accounted for just 9% of top jobs – chairs, CEOs or managing directors – with 15% in creative departments. By 2015, women make up 32% of these most senior positions but still only 26% in creative departments according to the IPA's Gender & BAME survey. "The shift is not fast enough. I'm keen for it to go faster," said Klein.
The debate touched on various strands of diversity including gender, socio-economic background and ethnicity. It generated a number of tangible ways both brands and agencies can stop talking and start taking action...
Eight actions to take in the next 12 months
1. Partner and progress with agencies who champion diversity
Alex Dimiziani, global marketing director at AirBnB said: "We have not put it in code, we have been very clear with agencies. Our partnership priorities are – first and foremost – diversity."
Leon Jaume, executive creative director at Engine-owned WCRS said: "Everyone knows diversity is a good thing, but they have not yet realised that not enough diversity is a really bad thing."
Brands hold an important position as they can be the catalyst for agencies to change. As they demand effectiveness, efficiency and engagement – marketers must hold agencies to account on diversity.
While CoverGirl's global senior VP Ukonwa Ojo doesn't set out diversity as a key priority to avoid tokenism or manufactured diversity – she looks for indicators instead. She said: "I want [diversity] already there. I would not partner them if they did not have it. When you come in for the pitch, I'm looking at who's coming into the room and what the work is. My point of view is 'I'm not going to teach you how to do this, I want you to live it'."
Monster Worldwide's CMO Andrew Warner added: "If the people involved in the process can't view it through the eyes of the audience you're trying to connect with then you're never going to reach that audience. In the UK, socio-economic background has been one of the most pressing issues for agencies who have often hired Russell group university graduates who just cannot relate."
It's also important to make diversity an ongoing conversation. Dave Roberts, managing director at Engine's content and entertainment marketing agency Trailer Park said: "Picking a partner shouldn't be a procurement tick box – it's collaborative."
2. Recruit from diverse talent pools
Recruitment offers a real opportunity for change. Both brands and agencies have the power to hire entry or executive level talent from underrepresented groups so why do the same types of people get hired?
"Agencies do not pay people who work at the lower end enough and so are not attracting the best talent out there – they could learn a lot from accountancy firms who are offering competitive salaries and so attracting more diverse talent," said Michele Oliver, VP marketing at Mars. Monster Worldwide is championing equal opportunities in recruitment and have recently banned employers from advertising unpaid internships on their website.
Oliver also urged employers to look for differences in future employers, not similarities: "There is an aversion to risk and so people tend to go with people they know."
3. Increase visibility of senior teams
Both agencies and brands must get better at promoting more diverse individuals to senior positions – especially women.
Jamila Saidi, director of GREAT Britain International Trade Campaign and head of international trade marketing said: "It's what happens after middle management – that is where you start to see the real challenges. For us, it is critical because we are communicating with people from all over the world. If we don't have diversity it impacts on the work we do. A lot of the companies we speak to are all diverse from all parts of the UK."
KFC's former global chief marketing and innovation officer Jennelle Tilling added: "You have to have other rockstar women in your organisation as a support network. At Yum, if a woman is going off on maternity leave, we often promote them because they go out feeling fantastic about their job."
4. Engage creative talent before they leave school – and show them that advertising is open to everyone.
Some feel that a key challenge is not having enough diverse applicants applying to the industry in the first place. There is a real need to educate school children about advertising and send a key message that it's open and holds plenty of opportunities for all kinds of people.
Leon Jaume, executive creative director at Engine's WCRS said: "Creative departments are meritocratic, I personally don't know of any cases of people being rejected because of prejudices – we need to go back a few stages and tell schools about what we do so diverse talent comes to the industry. Speakers for Schools is a great way to do this."
Speakers for Schools is a UK charity helping state schools inspire their students and broaden horizons through access to the insights, experiences and expertise of today's leading figures – including Engine's Debbie Klein – through free talks and workshops.
This is one key way leaders can future-proof the diversity of their workforces.
5. Create work that reflects the society we live in
It may take more time and effort but content creators – both agency and brand side – must challenge stereotypes and produce work that is reflective of a modern society.
Engine's recent 21st Century Woman study found that 86% of women think
that brands depict a 'stereotypical existence'. And 76% of UK women also feel that brands do not accurately represent them. This is a clear consumer call for better understanding of gender diversity.
Mars's recent Maltesers advert, which depicts stories of young women with disabilities, is an example of a brand connecting with a typically under-represented group. Oliver said: "In our internal survey last year, before the ad, our people living with a disability were our least engaged associates and this year – following the ad – they are the second most engaged group – and we did nothing else other than create the Maltesers ad."
CoverGirl's Ojo explains diversity in advertising doesn't mean adding limitations – but injecting intuition: "Storytelling is still number one and if we over-mandate we handcuff the creatives. But if it looks too far from the norm, people won't connect with it. We need to judge it more intuitively."
Roberts calls for better equality on the production side and Hollywood's latest hit inspired him: "Coming from a production perspective, the big thing for me is making sure we drive diversity behind the camera. The Wonder Woman phenomenon for example, there was a lot of discussion and debate about it, it's doing incredibly well and is now expected to change perceptions of female directors. It's an example of how one piece of work can change the entire mentality of an industry."
6. Champion a culture change
Some feel diversity when recruiting often loses out to speed and convenience. Attitudes must be changed. AirBnB's Dimiziani said: "We've realised diversity matters more than speed. Internally our diverse values are strong but there was shock for us that there was discrimination happening on our platform. So we've made it everyone's jobs to champion diversity. We have lots of unconscious bias training, and it is shocking to find out how biased everyone is. Retraining and creating a positive employee experience is critical."
Company culture is also changing to retain staff in brands and agencies. Johnson & Johnson have just announced they are giving eight weeks full paid parental leave to both parents, globally. They have also employed a chief diversity officer to prioritise and manage diversity across the entire organisation. "What people are we bringing in, how is that diversity shaping how people think. We need to think differently about where people are coming from," said regional marketing excellence director Alison Hatherall.
On the agency-side, Engine have rolled out unconscious bias training for all staff in their organisation and introduced 50/50 gender shortlists for senior roles; they also make programmes available for both maternity and paternity leave to improve the reintegration process for returning mothers and fathers.
7. Set targets – and plan a strategy to reach them
Many at the discussion feel real change isn't possible without setting targets. And most have already set them – particularly around gender diversity to ensure there are an even number of men and women being considered for similar positions.
At Engine, the global board is 50% women but at the next tier down this isn't the case – so they've set a target to have 50% of their top 10% as female by 2020. Engine's CEO Klein said: "There's a strong business imperative and there's more impetus if our clients are firmly behind it."
Klein cited the 30% club as a proof point for this. The government-backed initiative, designed to get more women into non-executive positions on boards set a target of 30% when it launched in 2010 and has since seen the number of women on FTSE-100 boards rise to 27% up from 12.5%.
8. Share your challenges and how you're tackling them – it'll inspire others
The debate proved there are innovators both brand and agency-side who are driving real tangible change around diversity. Some are already doing it – and some have set clear goals. It's key for organisations to share, educate and encourage their peers to adopt initiatives and targets that are working.
Change isn't going to happen overnight – but progress will.
Four actions to take today
- Shortlist candidates from different backgrounds for that role you're advertising and implement 50/50 gender shortlists for senior roles.
- Set targets and make them public – with percentages, deadlines and a clear strategy to reach them.
- Ask your partners – agency, PR, media – what they're doing around diversity to get the conversation started
- Shout publicly about what you're already doing to inspire and encourage others to do the same.
The mini manifesto:
"Don't ask anything of your agencies that you have not built into your own team" Ukonwa Ojo, global senior VP, CoverGirl
"Get role models, diversity begets diversity" Jennelle Tilling, former global chief marketing and innovation officer, KFC
"Set targets, not quotas" Debbie Klein, CEO, Engine Europe and Asia
"Make a plan: without one it's just a lot of talk" Jamila Saidi, director, GREAT Britain International Trade Campaign and head of international trade marketing, Department for International Trade
"Recognise the trade offs, swap speed for unity" Alex Dimiziani, global marketing director, AirBnB
"Hire people from different talent pools – from YouTubers to Girl Guides" Alison Hatherall, regional marketing excellence director, Johnson & Johnson
"Publicise what you're doing – inspire change across the industry" Michele Oliver, VP marketing, Mars
"Have an ongoing dialogue and agree it upfront with your partners before you hire them" Andrew Warner, CMO, Monster Worldwide
Around the table: Andrew Warner, CMO, Monster Worldwide; Ukonwa Ojo, global senior VP, CoverGirl; Michele Oliver, VP marketing, Mars; Dave Roberts, managing director, Trailer Park London; Claire Beale, global editor-in-chief, Campaign; Leon Jaume, executive creative director, WCRS; Alison Hatherall, regional marketing excellence director, Johnson & Johnson; Alex Dimiziani, global marketing director, AirBnB; Debbie Klein, CEO, Engine Europe and Asia; Jamila Saidi, director, GREAT Britain International Trade Campaign and head of international trade marketing.