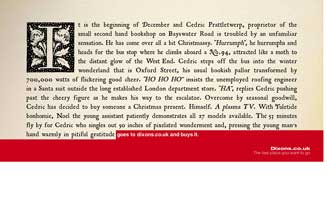 Dixons said that there is a trend of consumers using bricks-and-mortar stores to research products, before making their purchases online.
The ad, created by M&C Saatchi, details a man's shopping trip, where he seeks advice from a shop assistant about his planned purchase of a plasma television.
The copy reads: 'The 53 minutes fly by for Cedric, who singles out 50 inches of pixelated wonderment and, pressing the young man's hand warmly in pitiful gratitude, goes to dixons.co.uk and buys it.'
The outdoor ads will be supported by a 60-second radio spot featuring the voice of comedian David Mitchell, co-star of Channel 4's Peep Show. The ad will also be hosted on the retailer's website.
In September, Dixons, which is part of DSGi, launched its first ad campaign since becoming a pure-play online retailer in 2006. The activity used the strapline 'dixons.co.uk - the last place you want to go'. Although no department stores were mentioned by name, the ads were thought to be mocking retailers including John Lewis and Harrods, leading the latter to threaten legal action.
'Dixons.co.uk is a challenger brand and the campaign reflects this,' said Niall O'Keeffe, DSGi UK marketing director. 'We believe this latest execution will deliver significant cut-through ahead of Christmas.'
Online retail body IMRG said the value of the UK online retail market grew 14% year on year between January and October, with shoppers spending an estimated £40bn on the web.
According to the latest e-Customer Service Index from eDigital Research and IMRG, 93% of consumers plan to shop for their Christmas gifts online this year.
This trend is having a profound impact on the high street. Earlier this year a British Retail Consortium report forecast that the level of vacant shop premises would reach 15% by the end of the year.