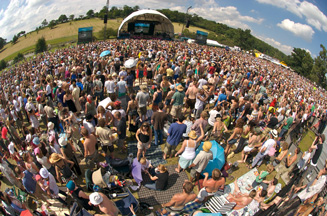 The herbal tea, called 'Big Chill', has been created by Mr Scruff's company, Make Us A Brew, which makes organic and ethically-produced beverages. Big Chill Tea will be available in selected stores. There will also be a 'tea tent' at the Big Chill Festival this August, where revellers can go and sample the new hot beverage.

Separately, Big Chill has announced that Weston's Cider will have pouring rights across all bars at the festival. The festival takes place in Herefordshire, where the cider maker is based. It is also the first time the cider brand has been involved with a music and arts festival. Weston's joins the beer Amstel, which will be involved with the festival for the fifth consecutive year. Iris has been appointed to create a programme of events to compliments The Big Chill's existing events diary, following a pitch.

Monkey Shoulder, the whisky brand, will also be involved in the festival for the first time and is creating a tree-house bar. Up to 30 festival-goers can occupy the tree-house and drink cocktails such as 'show us your monkey', as well as original Monkey Shoulder drinks, whilst playing traditional board games.