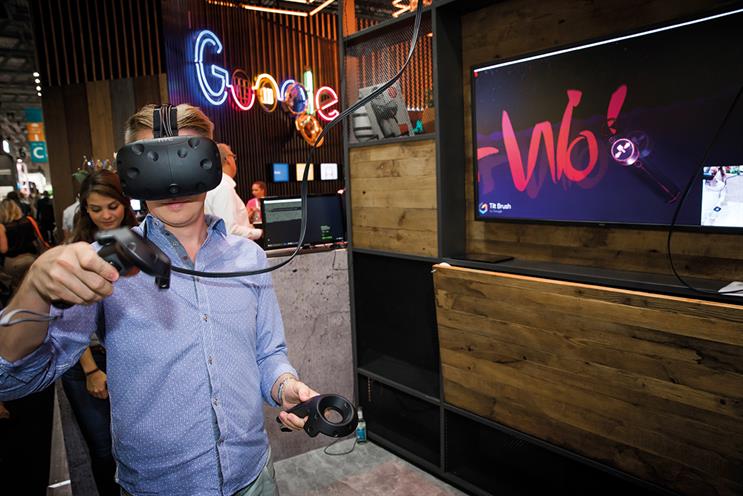 Google hits out against Adblock Plus
Adblock Plus shocked the industry by announcing its own ad exchange for "acceptable ads", in partnership with start-up ComboTag. Media giants didn't take it well, with Google ending its existing relationship with ComboTag, claiming it had "no knowledge" of the new ad exchange. The search giant has also joined companies including Procter & Gamble and Facebook in launching the Coalition for Better Ads, a collaborative effort to tackle the ad-blocking crisis.
Sorrell grills Twitter chief
Sir Martin Sorrell exacted his revenge on Twitter chief executive Jack Dorsey for failing to turn up for the pair's on-stage chat. Talking to Dorsey over Skype, Sorrell pointed out that Twitter remains unprofitable despite huge investment from the ad industry, including $150m from WPP. "Why is it so much of a struggle?" Sorrell asked. Dorsey said Twitter was building its future in live content, pointing to a partnership with the NFL. "As long as we're providing the best experience for customers, everything else will take care of itself," Dorsey said.
Don't waste money on silent video, Snapchat says
Snapchat took a shot at Facebook over silent video ads, saying that advertisers were wasting money paying for "a moving banner ad". Chief strategy officer Imran Khan did admit he was biased, since Snapchat offers sound on video ads by default. Facebook, by contrast, keeps the sound off on video ads, claiming that audio distracts users.
Yahoo's future is in live content
US telecoms giant Verizon is in the process of buying Yahoo and possibly merging it with AOL. Critics suggest that owning two fading in-ternet giants is no better than owning one – but Yahoo chief revenue officer Lisa Utzschneider said the company has a promising future in content. She pointed to Yahoo's efforts in sports broadcasting, including the first-ever NFL match to be live-streamed in 2015. Asked by Campaign what she would say to Yahoo's naysayers, Utzschneider replied: "We have one billion engaged users [who come to Yahoo] every day to watch a live baseball game, to check stocks, to search. I do think we have done a good job of leveraging the assets we have and making those connections with consumers."
Facebook unveils AI photo filters
Facebook is experimenting with artificially intelligent photo filters, which can render images and video in the style of famous artwork in seconds. Called "style transfer", the technique is similar to an advanced Instagram filter, using neural networks to make a normal night sky look like Van Gogh's The Starry Night, for example. The social network's chief product officer, Chris Cox, demonstrated the product alongside new augmented-reality features.
Lego defends gender-specific toys
Lego chief marketing officer Julia Goldin defended the brand for designing products targeted specifically at girls. "What we've identified is that to get girls to play with Lego, we had to be more relevant to them, connect to their world," she said. "They might come in and get engaged with something more targeted, but then they start getting interested in Star Wars and Minecraft."
Playbuzz boss downplays importance of chatbots
Shaul Olmert, chief executive of Disney-backed content platform Playbuzz, threw cold water on the idea that chatbots are the future of brand engagement with consumers. "I saw a great meme that had two circles that didn't touch, which said 'problems that the industry has' and 'problems that chatbots solve'," Olmert told Campaign. "People do spend time in chat environments, but they want to type less, not more."
Mondelez wants to monetise content
Ad-blocking and disengaged consumers are "wreaking havoc" on the marketing industry, according to Mondelez International's Laura Henderson, but also present an opportunity to change things for the better. The global head of content and media monetisation added: "I'm focused on making content that's good enough to make money. What that does is it raises the bar. If I am making content that's good enough to make money, it's good enough to earn attention, and it means that I'm going to be able to offset my costs to reinvest into marketing in the future."
Vice boss predicts 'tremendous' growth for Snapchat
Snapchat stands to win big from an ad industry desperate for an alternative to the "duopoly" of Facebook and Google, according to Vice Media chief executive Shane Smith. "I think Snapchat is necessary as an antithesis to the hegemonic power of Facebook – it just has to be there," Smith said. "And because it has to be there, they're going to get a lot of support from brands and from content providers. I see tremendous growth for Snapchat."