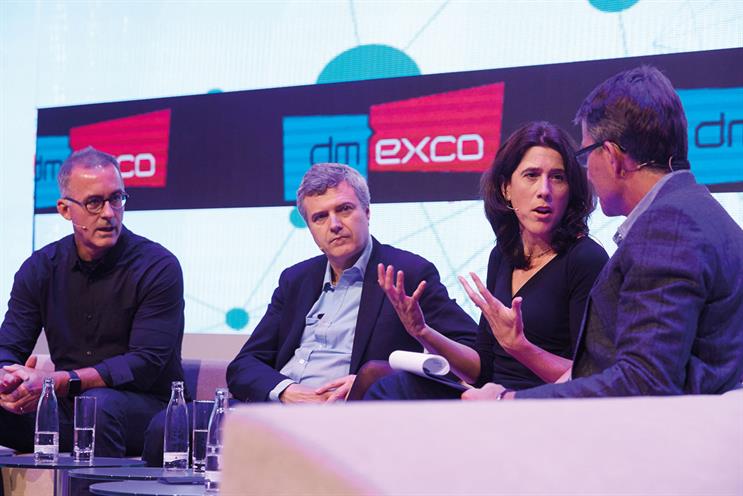 "Exterminate, exterminate," the eight-foot robot shouted before spraying water out of its eyes at the assembled crowd.
This was one of the many attractions in four huge halls of the Cologne Exhibition Centre (known locally as Koelnmesse) during last week's Dmexco conference.
In total, 43,000 people turned up to see and hear about the latest innovations in digital marketing.
Big-spending exhibitors such as Facebook and Google had areas that looked more like hipster bars than conference stands. Goodies ranged from free cookies (geddit?) at Facebook to a Twitter shop where you paid in Tweets.
Apart from almost non-existent Wi-Fi, the event had everything you would expect from a digital marketing conference – truly awful jargon and acronyms included. Sometimes it would have been easier to understand the sessions that were in German than translate all the talk of paradigm shifts.
"Dmexco this year felt like CeBIT in the 90s – a booming digital market celebrating euphorically," Curt Simon Harlinghausen, Starcom Mediavest Group's EMEA chief digital officer, said.
"However, a lot of people see the short-term impact and miss the long-term effects. The digitisation of markets, brands, organisations and products is now a serious business. The complexity of digital communication is forcing the simplification of processes and visualisation, as well as a more fluid strategy and agile execution."
The big topics were predictable: viewability concerns, the rise of automation and issues surrounding attribution – something felt most keenly by the marketing directors in attendance.
Here's your cheat sheet of the key talking points:
Tell your readers about 'the birds and the bees'
The ad-blocking genie is out of the bottle with the arrival of Apple's new operating system.
Many speakers interpreted the popularity of ad-blockers as a message to advertisers to stop exploiting the web. As one person Tweeted: "I'll stop using ad-blockers when you stop letting advertisers vomit all over my screen."
One opponent has emerged in the unlikely form of Marco Arment, who has removed his popular ad-blocking app, Peace, from sale. He said: "A more nuanced, complex approach is required."
One such approach is for publishers to offer a tiered system. Users can either read content for free but see ads, or subscribe and have an ad-free experience.
This system is what Ben Barokas, the founder of Sourcepoint – which blocks ad-blockers – advocates. He believes publishers need to explain to consumers how the business works in order to strike a different relationship.
Barokas said: "In the past, the understanding was implicit. Publishers gave people content and put ads on the side, thinking the value exchange would just happen. But now the ad has been taken out, people don't realise that blocking ads is sabotaging the creation of content."
Advertisers need to pay more attention to mobile
The emergence of smartphones as a far more personal space than desktops or even TVs was a recurring theme.
As Microsoft's global head of innovation, Jonathan Oliver, said: "We all refer to our smartphone as our third arm. That's why it's creepy when ads pop up inside them."
It doesn't help that – as Barokas said – most mobile ads are "crap".
During a talk, Twitter's president of global revenue and partnerships, Adam Bain, said advertisers forget that 90 per cent of Twitter's traffic and revenue is from mobile.
"Consumers are using Twitter as a discovery platform, but we're seeing problems like advertisers haven't even optimised their landing pages for mobile," he said.
It's all about apps
It's not just mobile optimisation that is important but, specifically, marketing within apps.
Yahoo has found that consumers are spending three hours and 40 minutes every day on their mobile devices; 90 per cent of that time is spent in apps, and 10 per cent on the mobile web. On average, Yahoo is seeing a three-times lift in performance for mobile app marketing, according to its chief revenue officer, Lisa Utzschneider.
"Marketers aren't spending enough time on mobile apps. They need to think harder about how to tell their impactful stories and get a return for their content because consumers are living in their smartphone apps," she said.
If great content is never read, is it still great content?
While we have an average of 30 apps on our phone, only eight of them are used regularly. So the challenge is to ensure the content is actually being read.
The advice from Econsultancy's chairman, Geoffrey Ramsey, was that, instead of creating an app, and trying to persuade consumers to download it and then access it routinely, "tie yourself to the big, heavily used popular apps, and work out how to integrate into that".
Wunderman's global chief executive, Mark Read, argued that the industry had to think carefully about what digital communication achieves. He said: "'Likes' and retweets can get lost in the internet. The challenge is: are we really cutting through? I know it's heresy to say it at a digital marketing conference, but we know that traditional TV cuts through and we don't know if the internet does. We're still at that experimental stage."
Are humans the next smartphones?
And, finally, it wouldn't be a digital marketing conference without wacky predictions.
Humans will become a device, The Economist's chief data officer, Stephane Pere, claimed. He believes that, within five years, people will be able to download software into themselves.
Oliver predicted a few key people moves in technology. He expects Elon Musk, who heads SpaceX and Tesla Motors, to become the chief executive of Apple by the end of next year. Yahoo's Marissa Mayer, meanwhile, is tipped to go by June 2016. You heard it here first.