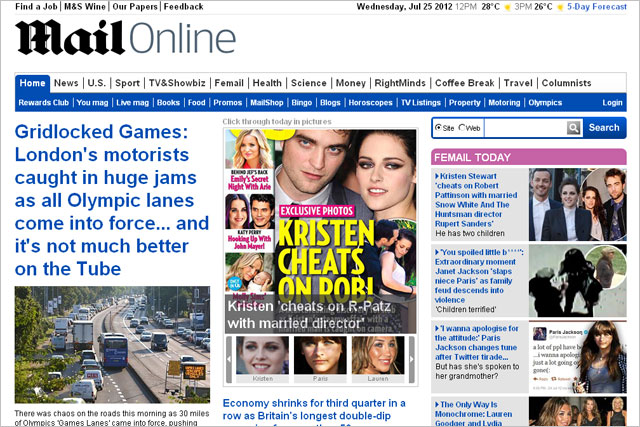 The performance of Mail Online, which includes content from the Daily Mail and Mail on Sunday, helped contribute to DMGT's national newspaper operation returning to revenue growth in the three months to the 1st of July 2012.
Associated, DMGT's national newspaper division, reversed its 4% decline in the previous quarter to report revenues up 1% year-on-year to £210m. The division's circulation revenue was up 4% and claimed to have made gains in market share, with the Daily Mail at 21.6% compared to 21.0% last year, and The Mail on Sunday now at 20.1% compared to 19.8% last year.
Digital advertising for Mail Online during the three months, the company's financial third quarter, was up 69%, boosted by more than 150% year on year lift in the bumper month June.
Mail Online's ad revenues for July are also believed to be on track for a record high, as the group's commercial operation in the US begins to make "significant contributions".
Stephen Daintith, finance director at DMGT, told Media Week: "I can today confirm that Mail Online did make its first profit in June 2012 on a run rate basis. Going forward we would hope to remain profitable month on month for the remainder of the year.

"We are expecting Mail Online's digital revenues for the year to reach between £25 million and £30 million."
Elsewhere, Northcliffe, DMGT's regional newspaper operation, reported revenues of £54m, down 9% year-on-year in the three months to the end of July, while its business-to-business revenues for RMS, DMG Information and Euromoney were up 7% in the period.
Media Week revealed the world's biggest newspaper site was set to announce its first profit on 23 July.
Read comment on how Mail Online became a profitable business here.
Follow @DurraniMix