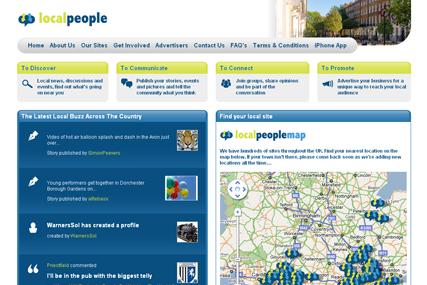 The Localpeople sites, such as Bideford People, Falmouth People and Clifton People, have been redesigned. A simpler homepage with a Twitter-style news feed allows users to write stories, reply to comments, follow active users, post reviews, rate content and share posts on other social networking sites.

Localpeople launched last July as a network of local sites with content generated from users, alongside community publishers. While some are in areas where DMGT already operates, others are in new areas.

The Localpeople sites use some content from the relevant sister website, where there is a crossover with a Northcliffe title, but have a distinct community focus and are run as an entirely separate business.
Localpeople may look to expand the network outside the UK, as the network has the infrastructure to grow to 1,000 sites, with multi-language capability. DMGT has print and digital operations outside the UK in Eastern Europe, including Hungary and Slovakia.

It is intended to build the brand in the coming months through extensive digital marketing, brand campaigns and a combination of local marketing events and social media engagement.

Although the websites carry some national advertising, which is sold by Associated Northcliffe Digital, their core revenue stream is from local ads, which are sold by a team of 12 reps who look after clusters of sites close to each other.

Roland Bryan, managing director of Localpeople, said Localpeople was making twice the predicted ad revenue per site and the first six sites to launch were either breaking even or better, a year ahead of target.

Bryan said: "Our focus is providing small businesses with a way of reaching a really local audience. The targeted nature of our sites means that our advertisers can achieve this at reasonable cost with low wastage."

A spokesman for Localpeople said the network had 330,000 unique users a month and an average penetration of 20% of people with an internet connection in areas where there is a website. This has risen to 30% in many of the sites that launched last year.
Read more on Brand Republic's digital blog The Wall