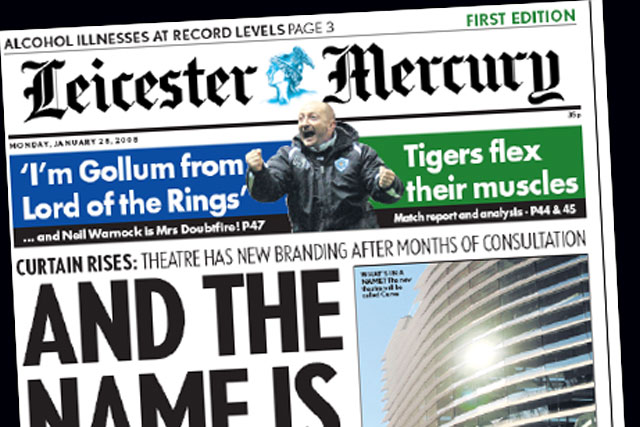 The deal would value the embattled regional arm, which includes titles such as the Hull Daily Mail and Leicester Mercury, at around £100m.
The Montgomery-fronted vehicle is thought to be the frontrunner in the discussions to buy the titles. Media Week understands that DMGT executives have also held talks with regional publisher Johnston Press about buying the titles.
DMGT had tried to sell Northcliffe back in 2005, in a deal which then valued the business at more than £1bn.
Montgomery has teamed up with Yattendon, the family-owned regional property group, to buy the 84 titles.
Under the proposals, Montgomery and Yattendon would set up a new company called Local World.
Local World would merge Northcliffe's 84 regional titles with titles from Yattendon's local media business, Iliffe News & Media, which includes paid-for titles such as the Cambridge News and free titles including the Royston Weekly News and Newmarket Now.
Local World has been backed by private equity companies including Odey Asset Management. A number of banks are also thought to be supporting the deal.
Trinity Mirror, the publisher of the Daily Mirror, said it is in discussions towards taking a minority stake in the business.
Under the plans, Yattendon would take a stake in the new company in exchange for all its newspapers, while DMGT would take a minority stake, as well as receiving some cash upfront.
The plans for Local World are unclear. It is understood that the business will in the long-term look to acquire further assets in the struggling regional titles. Consolidation in the regional sector has been long-awaited by observers, as regional chiefs look for the best way to offset falling circulations and advertising revenues.
Montgomery is a high-profile figure in the newspapers industry. He stepped down as chief executive of pan-European publisher Mecom in 2011.
DMGT confirmed that it is currently in talks regarding the future of Northcliffe. It added: "No deal or transaction has been agreed, but if these talks move to the point where agreement is reached, an announcement will be made to the market.
Follow @johnreynolds10