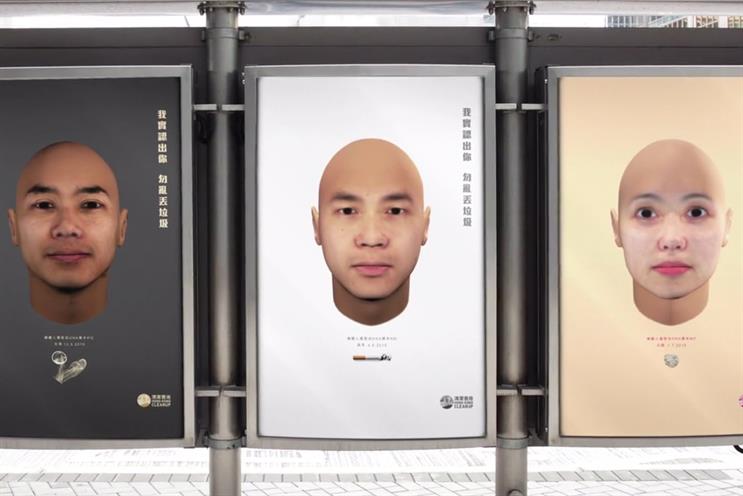 HONG KONG — The creators of an Earth Day campaign launched today in Hong Kong analyzed DNA from real-life litter to create visual representations of the litterbugs and make citizens think twice about tossing their trash — lest they find their face adorning a future poster.
Commissioned by the Hong Kong CleanUp Initiative, organized by Ecozine and The Nature Conservancy, Ogilvy & Mather Hong Kong collected litter and used SnapShot DNA phenotyping technology from Parabon Nanolabs to create visual approximations of the litterbugs. DNA phenotyping can't lead to the actual individual who littered, but can reveal characteristics such as ethnicity, eye color, hair color and gender.
The technology also cannot reveal age, so the team factored in the type of litter and the location where it was found to arrive at an estimation of age for the culprits.
Reed Collins, chief creative officer, Ogilvy & Mather Group Hong Kong: "Litter is such a major problem in Hong Kong, and thanks to newly available DNA technology we can now put a face to this anonymous crime and get people to think twice about littering."
Last year's six-week Hong Kong Cleanup challenge saw 418 teams of 51,064 participants collect 8.6 million pounds of trash.
Campaign credits
Client: Hong Kong CleanUp
Agency: Ogilvy & Mather Hong Kong
Chief Creative Officer: TReed Collins
Executive Creative Director, OgilvyOne: Rafael Guida
Creative Director, OgilvyOne : Jim Fong
Head of Creative Technology : Craig Mason
Business Director, OgilvyOne: Viko Wong
Group Account Director, Advertising: Carey Pearson
Account Manager, OgilvyOne: Sincere Ng
Head of TV, Hogarth: Mikyung Kim
This article first appeared on campaignasia.com.