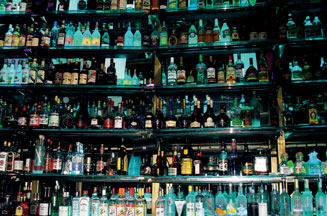 In addition, the BMA is calling for an end to all promotional deals like happy hours, two-for-one purchases and ladies' free entry nights.

The BMA report, Under the Influence, which launches today (Tuesday 8 September 2009) also renews the call for other tough measures such as a minimum price per unit on alcoholic drinks and for them to be taxed higher than the rate of inflation.

Dr Vivienne Nathanson, head of BMA science and ethics, said: 'The reality is that young people are drinking more because the whole population is drinking more and our society is awash with pro-alcohol messaging and marketing.

'Given the alcohol industry spends £800 million a year in promoting alcohol in the UK, it is no surprise that children and young people see it everywhere - on TV, in magazines, on billboards, as part of music festivals or football sponsorship deals, on internet pop-ups and on social networking sites.'

Brand development and stakeholder marketing by the alcohol industry, including partnership working and industry funded health education, has served the needs of the alcohol industry, not public health, says the report.

David Poley, chief executive of the Portman Group, the social responsibility body for drinks manufacturers, defended advertisers.

'The BMA is ignoring all the evidence that advertising causes brand switching, not harmful drinking. A ban would not improve our drinking culture and could even be counter-productive.' Poley added that a comprehensive study by The University of Sheffield would create fiercer price competition which could actually increase overall consumption.

A spokesman for the Advertising Standards Authority said its latest survey showed that 99% of alcohol ads monitored were compliant with the rules.

'Industry significantly tightened the alcohol rules in 2005 to increase protection for young people and ensure UK alcohol advertising is responsible,' he added.