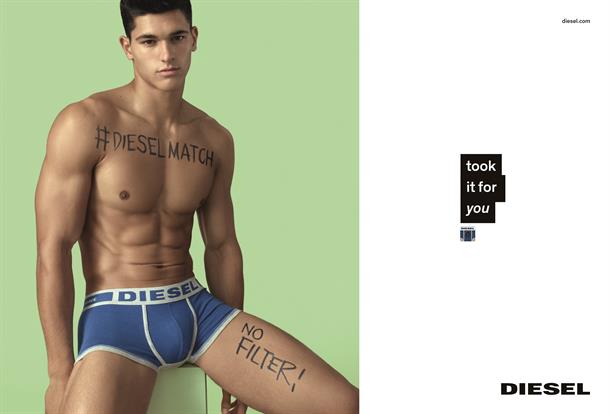 It's a no-brainer for brands - to reach consumers, they need to target them where they are spending their time. And according to data from pornography portal Pornhub, they are spending a lot of time looking at porn.
The taboo of porn is far less of an issue to young, curious and open consumers
In 2015, Pornhub claims, porn viewers watched more than 4bn hours of smut globally. To put that into perspective, that adds up to two-and-a-half times longer than homo sapiens has been on Earth.
While porn is clearly not a subject to pique the interest of senior marketers behind most mainstream brands - at least not professionally - Diesel this week proved an exception. But will the fashion label's push into dark waters show the way for other brands?
Not for Phil Rowley, global innovation director at media agency PHD. "Understandably, most mainstream brands shy away from porn sites and it's not just about the content," he says.
"As an advertiser, you're also concerned about with whom you'll be sharing the ad space. Some porn websites are hot-bed of clickbait, online scams and adverts for knock-off Viagra copies. Regardless of the content, few advertisers want to be seen alongside these type of ads – it's just not big brand behaviour".
But considerations such as these clearly did little to deter Diesel, whose campaign for underwear took the unusual step of buying advertising space on Pornhub and gay hook-up site Grindr, tailoring its message accordingly.
The campaign was devised by New York-based Spring Studios, whose global strategy director Richard Welch told Marketing: "This is a first for Diesel. We came up with the idea and they agreed it was a relevant and engaging space to specifically market their underwear range.
"They are an adventurous and pioneering brand and always open to experimentation."
It was this experimental approach to media buying that necessitated a tailored creative approach, Welch adds.
"We developed specific creative that leveraged the strategy in an appropriate way for the sites and their content," he explains. "We have approached all media the same way whether its a taxi-top, a dating app or a porn site. Consumers welcome content that understands its context, especially if it is humorous....One size never fits all!"
Not everyone thought it was such a pioneering move.
Twitter user Spiro Mandylor claimed it was "Dismal for Diesel that they've stooped so low".
@MarketingUK @benbold Sad. Dismal for Diesel that they've stooped so low.
— Spiro Mandylor (@itsallstyletome)
January 20, 2016
But in the other camp, unsurprisingly, is Spring's Welch, who admits that while porn sites are not relevant or appropriate for all brands, that the "taboo of porn is far less of an issue to young, curious and open consumers", highlighting that the audiences that porn sites attract are "significant and consistent".
While Diesel's porn-targeted activity marks a first for the brand, it is obviously not a first for brands per se.
"As early as 2013, small challenger brands - like online takeaway services Eat24 and Zomato – were experimenting with placements, cheekily acknowledging the surrounding content," Rowley says. "Brands like this desperately need cut-through, and since they don't have any delicate brand values to protect, for them porn sites are a goldmine of cheap inventory and fantastic reach.
"A number of online casinos, like 888, operate in this space. Again, both are forms of 'adult entertainment', and so the contextual fit doesn't really jar."
"Whilst Diesel have done something edgy, I don't think we're about to see a stampede of brands booking space on Pornhub, if it's not the right fit, or it contravenes their brand values," says Rowley. "It may have opened the door for other agile, edgy brands to do this, but I don't think we'll see any big FMCG brands on a porn site any time soon."
The notion of advertising on a porn site, like porn itself, is clearly still a taboo. Welch points out that as with most taboos, "once they become embraced by the mainstream they loose their status as a taboo".
Consumers are spending a lot of time watching adult content on adult sites, and that particuarly applies to UK consumers, according to Pornhub's data. Brits are second only to Americans in their appetite for porn.
Will this herald a new dawn for brands embracing porn, or will they continue to avoid these less-than-salubrious, if popular, consumer destinations?
"I'm not sure adult sites are the right place to see ads for detergent, but it all depends on the brand and the strategy," Welch says. "It would certainly differentiate the brand!"