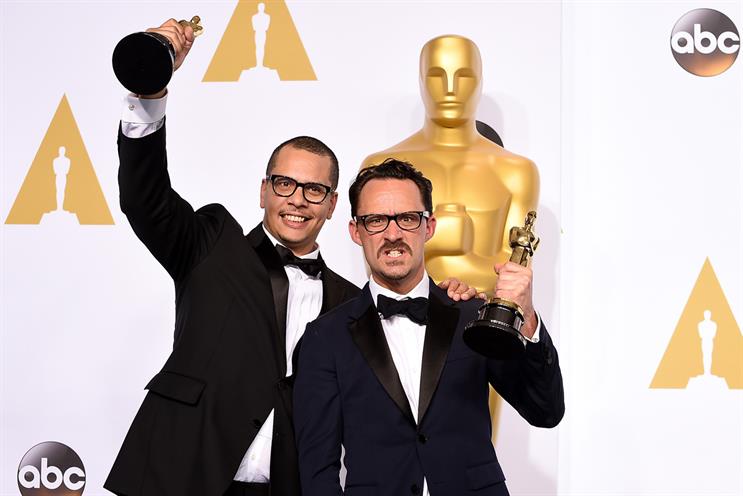 Mat Kirkby, one of RSA Films' directors, and his co-writer, James Lucas, who is RSA's directors' representative, won the Short Film – Live Action Oscar last month for The Phone Call. It stars Sally Hawkins and Jim Broadbent. Kirkby has shot commercials for KFC and Sony PlayStation. Campaign talked to the pair about the film, the moment they won and the notorious Oscar after-parties.

Congratulations. Tell us about your film.
James Lucas We made a short film drama called The Phone Call. Hawkins plays a crisis-centre phone counsellor who takes a call from a depressed widower voiced by Broadbent. The conversation takes many twists and turns and ups and downs. In the beginning, she is trying to help him and, by the end, he is helping her.

Where did you get the idea?
JL Both Mat's and my mother were phone counsellors. We had talked about making a film together and I remembered I had scribbled down a very early version of The Phone Call a few years back. I sent it to Mat and he wrangled it into shape and brought in some necessary plot development and structure.
It was a film we needed to make. Phone counselling is a sector full of unsung heroes (like Hawkins' character) and their voluntary work helps many people in sad, precarious and dangerous predicaments.
We wanted to respectfully highlight the incredible work they do. It's nice to think there is innate goodness inside us and it's not all dark shit.
How did the filming compare with shooting an ad?
Mat Kirkby It's amazing how much more filming time you have when you don't have 12 people stood around discussing the colour of a T-shirt for two hours at the beginning of the shoot!
I love collaborating with agencies but I do hope they will see what I've been able to achieve on my own – outside of a committee – and therefore give me a bit more room to actually direct my commercials.
When I filmed this short, I literally felt like someone had taken a big rucksack full of rocks off my back and I was free. Having said that, without commercials, this project would simply not have been possible.
I earned a lot of favours from my wonderful crew while working on ads and I intend to pay them back for donating their talent and time for this project.

What was it like being at the Oscars?
JL The best night of my life. Electric, heady, exhilarating.
MK Bizarrely calm. I woke up on the day and it was raining. Los Angeles looked like Wales, where I grew up. I thought: "Hello – I think we've won it."

How did it feel to win and get up on the stage?
MK Relief. A wonderful release of endorphins. Standing up there, you see this huge crowd and it is full of famous faces… then a giant clock in your eyeline counts down from 45 seconds, then a red light goes on, then an angry man is waving at me to stop talking. But I thought: "Fuck him… I'm gonna keep going."
Then, before you know it, you're in the wings getting high-fived by Gwyneth Paltrow, and you look down and you've got a 6kg, 24-carat-gold, iconic object in your hands and you're giggling.
JL I had watched the Oscars on a little TV set in small-town New Zealand as a wee lad growing up. So to not only be in that auditorium but also walk on to the stage to receive a beautiful golden statuette…well, those feelings of elation, euphoria, pride and happiness will never leave me.
Any after-party stories?
JL That lovely little golden man has a strange, powerful energy and it was our key to the city of LA and all the parties happening in it. We really did rub shoulders with the good and the great – John Travolta, Michael Mann, Clint Eastwood and so many incredibly beautiful women (including my wife).
Aaron Paul is a top man and it was great to party with him. Bitch! Elton John's party was rowdy as hell and we had to leave early as people kept trying to grab our Oscars off us. One guy tried to give me his diamond-encrusted Super Bowl winner's ring for my Oscar. I'd sell my Oscar as much as I'd sell my firstborn. But it was an amazing night and Hollywood knows how to party!
MK There was a huge queue of limos outside the Vanity Fair party, so we mounted the pavement and used the Oscar as a police light on top of our cab, overtook everyone and pulled outside. The burly door staff just grinned and let us straight in.
At Madonna's party, I realised I was dancing with Eddie Redmayne's Oscar in my hand and had to go back to swap with him. We also shared curry in a kitchen with Leonardo DiCaprio at 6am.

What's next?
JL I'm writing a couple of feature scripts, including a Gazza biopic. I'm also developing two limited-series TV projects. There's lots cooking in the kitchen and now is the time.
MK I've already written two feature scripts that are ready to go, and I've been flooded with offers. I'm working extremely hard to make the most of this wonderful opportunity.