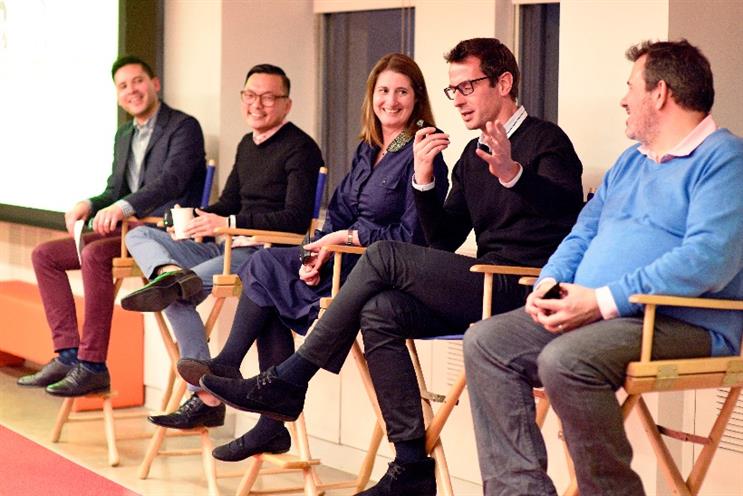 It's a myth that only young people are allowed to ride the cyberspace roller coaster. Gen X and Z may have grown up with digital media, but older generations built it.
We haven't forgotten this. And to celebrate our online mavericks, Campaign US recognized the creative world's pioneers of digital growth at its annual 40 Over 40 event in New York City on Tuesday night.
"My philosophy is the soft stuff is the hard stuff," said Edward Lee, VP of North American operations and business intelligence at The Exchange Lab. "What we're finding is we get a lot of great candidates with a lot of hard skills, whether that's coding or making data-based decisions—they know all that sort of stuff.
"But the thing that's missing is experience. It's the communication skills and the ability to have tough conversations with clients and be authentic. What the older generation brings is something you can only get working on the job—you need a little bit of experience to call the bullshit."
Lee sat on a lively panel, hosted by Campaign US editor I-Hsien Sherwood, to discuss what it takes to be a digital wizard in today's online-first world. He was joined by Angela Ceccarelli, head of marketing at HSBC, Jermone Hiquet, CMO of Tough Mudder, and Jason Chebib, Diageo's VP of consumer planning.
The answer was simple: "The main thing it takes to lead in digital is the ability to leave behind the fact that it's digital," said Chebib. He used Amazon's rise to power as an example, explaining how "deliciously ironic" it is to see the once online bookstore now opening bricks and mortar to sell books.
"That's about working out what people want," Chebib continued. "What you need in any great marketing are the skills to work out what people want and fulfill it in a really interesting way—and these skills come down to a more basic mindset.
"One of the things that shocks me when I interview people is how incurious they are. You want to work in marketing, but you have no idea what makes people tick?"
Hiquet agreed. In fact, the make-or-break question he's increasingly asking candidates is, "when was the last time you did something for the first time?". It's all about taking risks for this CMO. Hiquet told how he decided to Facebook Live a Tough Mudder race in a bid to demystify rumors about how scary the obstacle course is. It had the potential to go horribly wrong (one seriously injury caught on camera would do the trick), but the digital gamble paid off—around one million people watched the livestream.
"For me, digital is a lot of different things," said Hiquet. "What I realize more and more is it's less about the skillset and more about the mindset. It's important to have experts, but who also have the ability to engage with customers. And if you want to stay ahead of the game, you have to be taking risks."
Underpinning the conversation were core themes currently rocking the industry: sexism and ageism. Still, too many men are sitting in tech/digital-lead roles, and the notion that online savviness has a shelf life lives on. The panelists stressed that there is still so much more work to be done in ridding ourselves of the conscious and unconscious biases we have about the people we come face-to-face with every day in adland.