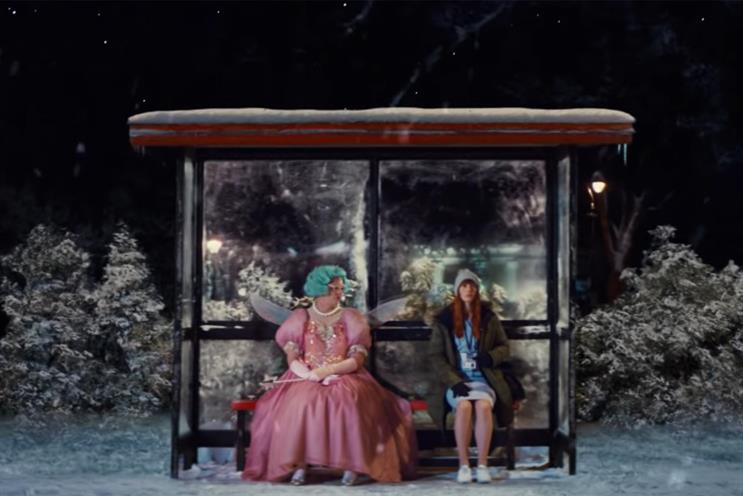 So what does ODD have that Engine, M&C Saatchi, Pablo, The & Partnership London and Uncommon Creative Studio do not? Obviously something, given that this hitherto obscure agency beat these to win the coveted Marks & Spencer clothing and home account.
Judging by ODD's website, its mantra is the standard fare: "ODD is an integrated agency that builds aspirational lifestyles around brands, informed by real-time cultural insight and data." But its client list is rather more revealing – it includes Adidas, Henri Lloyd, Lacoste, Mr Porter, River Island and Uniqlo. Within most traditional agencies, this would be considered a clash – but for ODD retail and fashion is a specialism.
Given the calibre of the agencies that ODD has defeated and the way that it is cleaning up in this category, this begs the question of whether ad agencies struggle to deliver work for fashion brands.
Mark Roalfe
Chairman, VMLY&R
It would be too much of a generalisation to say ad agencies can't do fashion. However, I do think sometimes they struggle. Fashion brands are often built without hard logic and rigid ideas that agencies bring to brands. In fashion, a feeling or a mood can be an idea. Using Steven Meisel, Mario Testino or Mario Sorrenti can be an idea. You can build a brand on the choice between Gisele, Cara or Twiggy. I'm not saying this to demean fashion brands in the slightest. In fact, there's so much we can learn from them – they have built some of the world's most desired and culturally relevant brands with just a logo and an image. I think the agencies that get fashion best are the ones that understand it plays by different rules.
Nick Stickland
Co-founder and executive creative director, ODD
Every sector to which adland caters comes with its own particular language, invariably translated by agencies into hardworking brand ideas. The fashion sector is no different – it's just a tongue which hasn't been as widely adopted.
It's not so much a rejection by adland to learn the language but more, perhaps, a symptom of the fashion industry's historic hesitance to welcome narrative into its comms – a magic ingredient that fashion brands are gradually realising can be a differentiator. Being experts in balancing narrative with the inherent subtleties within fashion is what "traditional" agencies need to demonstrate to win.
Bridget Angear
Joint chief strategy officer, Abbott Mead Vickers BBDO
In our industry, we often make the mistake of confusing specialism with expertise. Just because you only do one thing, it doesn't automatically make you good at it. In fact, when it comes to creativity, all the data suggests the opposite. Innovation is best friends with diversity. The greater difference in a team, company or network, the more likely you are to discover something new. I don't think we should prevent specialisms from building, with our archaic views about conflict. But we should also be wary of the specialism that can lead to safe formulaic group-think. It's bad for creativity.
Al Young
Chief creative officer, St Luke's
Anyone reading this will be able to name a string of mainstream fashion successes by "traditional" agencies, but that doesn't make M&S's choice folly. Fashion is a fiefdom that broad-based agencies have little access to. A microcosm of casting agents, stylists, photographers, PRs, influencers and journos, who all know what drives credibility within fashion circles and gain exposure outside the paid medium. The downside for big brands with fashion specialists is they can end up flying sans strategy. Brand worlds driven by adjectives plucked from the ether, rather than by ideas and campaigns that become a conversation between fashion insiders, but fail to talk to the 42-year-old target mum in Ipswich.
Natalie Graeme
Founder, Uncommon Creative Studio
I think fashion is an untapped territory for agencies. We co-created a new fashion brand with Asos – Collusion. The brand is consistently bringing newer, younger customers to Asos, with the first collection selling out in 11 days. It's bringing ethics and profits together and challenging the fashion industry. The key is building a brand that people are excited to welcome into their lives and the marketing should follow suit, rather than layering on advertising artifice – perhaps that's what other agencies are missing when it comes to fashion.
Richard Brim
Chief creative officer, Adam & Eve/DDB
The "fashion" topic confuses and irritates me in equal measure. Actually, it doesn't; it just irritates me, a bit like when "digital" agencies were a thing. "I'm not sure you guys get fashion", "it's a fashion thing", "fashion is very different to the stuff you do" – what are you talking about?
Now I get it's a skillset and it's a skillset every agency worth its salt should have because it's another way of answering a problem. But some sort of dark art it is not.
When I last checked, it was all about creating a feeling, and that is what we do and have done well (Gucci, Balenciaga, H&M, Adidas Originals). It makes me sick to my stomach with jealousy, because there is no idea, which is fine, but it makes you think, smile or feel slightly uncool.
When done badly, which is 90% of the time, it makes people feel nothing – just wallpaper with varying degree off pretention, which I'm sure is not the point. So in answer to the question can agencies do fashion – well, of course we can, and in our experience you need brave clients who are willing to not follow the way things in "fashion" are done. And believe you me, there is nothing more satisfying than getting the doubters to eat their words.