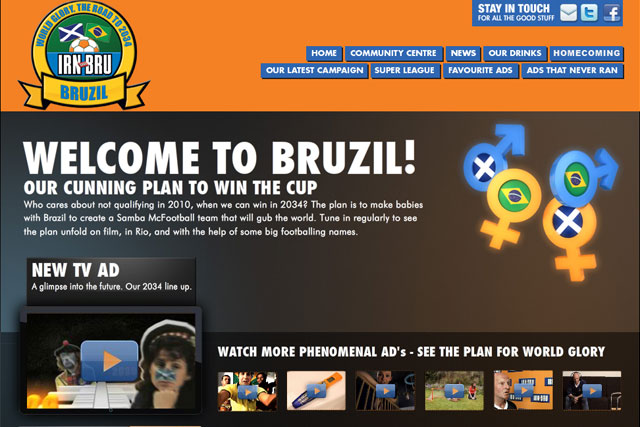 There was a time, not so very long ago, when the performance of our media agencies at Cannes was a cause for concern. Having played an instrumental role in getting media recognised as an award category in the first place, we'd pitch up with the sort of swagger that denotes effortless superiority, only to discover that we'd won nothing.
And then, as in the joke about why it's unfair that there are never any lottery winners in Scotland, it was pointed out to us that it might help if we actually bought a ticket - by doing a better job on our entry submissions.
But when we did deign to take the whole thing seriously, that didn't seem to work either. So we came to adopt the default stance of all unacknowledged winners from these proud islands - we pointed out that Cannes was a fiasco of a tin-pot beauty contest that had no higher calling than to reward flashy stunt marketing exercises from agencies no-one had ever heard of in countries without a proper advertising industry.
It was a bit like our performance in the Eurovision Song Contest. Or, even more painfully, some international sports. True, we invented most of the games people play, it's just that everyone else plays them better these days. Some of us began to worry that, though our media agencies think they're up there with the likes of Rafael Nadal, it might turn out they're actually Emily Webley-Smith.
Well, fret no more. Last week our boys and girls done good. Manning Gottlieb OMD's "GT academy" work for Nissan/Sony PlayStation scooped a gold in the Media Lions - as did PHD's "Bruzil" work for Irn-Bru.
We were, of course, beaten to the Grand Prix prize by Cheil Worldwide, an agency from Korea. Still, we can all sing Blue's I Can without a sense of melancholic irony now.
Perhaps, Andy Jones, the chief executive of UM London, says. He adds: "It's certainly true that Cannes has changed over the years. There was a feeling at one point, from a UK perspective, that we operated in a highly regulated market - and it was difficult to do some of the stuff (that was being awarded). We just wouldn't get away with it. But, I think in recent years it has grown up a bit - and these days the judges tend to be serious players."
Iain Jacob, the president, dynamic markets, at Starcom MediaVest Group argues that media companies underestimate Cannes at their peril: "From a media perspective, Cannes has fundamentally changed - and it goes way beyond the awards. It's a far broader gathering now. It totally captures the attention of senior clients and senior agency folk, and, tellingly, the big players in the technology and media owner space take it seriously. There's a lot of discussion in the area of thought-leadership, particularly the whole issue about how technology is changing the landscape for all of us. In that sense, it has gone way beyond its old reputation as a rather lovely creative agency gathering.
"The media awards have to be seen in that context - and it's clear that Cannes awards good work. It has to be worrying that there isn't more breakthrough work on show from UK agencies. The challenge for the UK is how it builds leadership once more in the communications landscape, and I think people recognise this challenge and are taking it seriously."
And, of course, Mike Cooper, the worldwide chief executive of PHD, is clearly pleased with the performance of his UK office - but he's equally energised about the bigger picture, stating: "Cannes is bigger and better than it has ever been before. Last year, there were around 2,400 media entries, and this year there has been an increase to over 2,900. Ten years ago, there was not a lot of emphasis on media and now it is everywhere at Cannes, with a significant amount of representation - not just in awards, but in the seminars across the week."
Yet there will always be those who believe that awards, especially media awards, are by their very nature detached from the realities of business life. For instance, Phil Georgiadis, the chairman of Walker Media, wonders whether they ever really recognise effectiveness.
He concludes: "What gets awarded at Cannes tends to be something ambient, rather than an integrated strategic campaign. So there's a disconnect there - awards don't always recognise the qualities that advertisers are looking for when they're looking to appoint a media agency. But I'm not negative about awards. If you're in a global agency network, and you're in a culture of entering awards at a national level, then Cannes will be seen as just the next level."
MAYBE - ANDY JONES, CHIEF EXECUTIVE, UM LONDON
"We value Cannes. The awards are an important barometer. But from a UK perspective, many agencies believe that local awards like Campaign's are a truer reflection of the merits of the work."
YES - IAIN JACOB, PRESIDENT, DYNAMIC MARKETS, SMG
"Cannes stimulates competitive ideas about what 'great' really looks like. And that benefits us all. It has to be worrying that there's a lack of breakthrough work from UK agencies on show."
YES - MIKE COOPER, WORLDWIDE CHIEF EXECUTIVE, PHD
"It is now the premier event for media agencies to attend. Clients are there in force, with corporations sending senior representatives. It's recognition that innovation in media is more important than ever."
MAYBE - PHIL GEORGIADIS, CHAIRMAN, WALKER MEDIA
"Awards may play some part in client thinking when they're looking to appoint a media agency. They are arguably more important for staff motivation. Obviously, you can see the advantages if you're an award winner - but you are not hugely disadvantaged if you are not."
Got a view? E-mail us at campaign@haymarket.com.