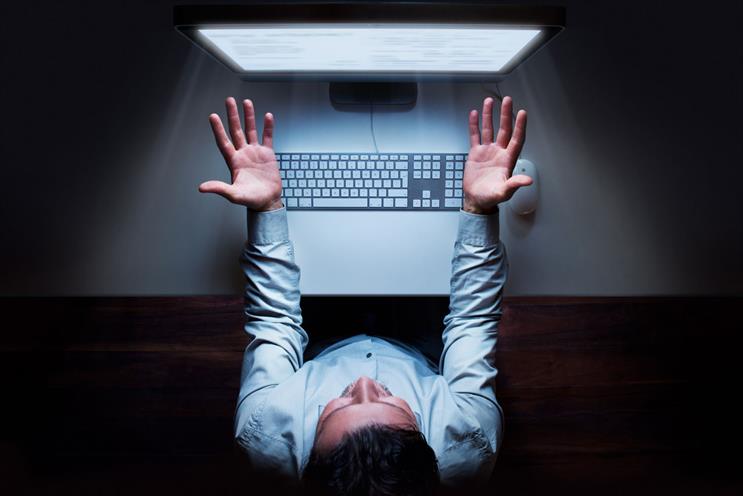 Critics continue to lambast online advertising and highlight its long list of weaknesses that are undermining advertisers' faith in the medium. Yet brands keep increasing their spend on digital ads while new online forms, such as native advertising, are taking off.
So is online advertising broken? And, if so, what can be done to repair it? Some say digital display advertising – worth more than £2 billion in the UK last year – has serious problems and that much work needs to be done to improve the medium.
It suffers from low click-through rates (0.1 per cent on display ads), widespread click fraud and a seemingly endless stream of poor-quality ads.
There is also low viewability – only half of the ads served on web pages are actually seen by users, as many do not scroll down far enough to view them. Meanwhile, the move to programmatic ad buying risks turning online advertising into an undifferentiated commodity, where ads end up on wildly inappropriate sites.
These concerns surfaced last week in the pages of Campaign with a piece by the Thinkbox chair, Tess Alps, who described online advertising as being in a "parlous state". She also expressed concerns about "creepy" addressable advertising, irritating pop-ups, ugly ads and the use of ad-blocking software such as AdBlock Plus, which is used by 300 million people. She called on brands and agencies to use their budgets to "rebuild an advertising landscape to be proud of".
But many dismiss these arguments and point out a wealth of advantages offered by online advertising. Some believe it provides brands with powerful ways of getting their messages across that are not available through other media.
Peter Markey, the chief marketing officer at the Post Office, thinks it is wrong to obsess about low CTRs for display ads. "CTR is not the only role of online advertising, so it should not be the only key performance indicator by which its effectiveness is measured," he says. Display ads also offer awareness and engagement just like TV, he adds, and these need to be taken into account.
Markey believes online ads minimise wastage through targeting – ads for the Post Office's products for small and medium businesses, for instance, are better-placed on eBay than in the centre break of Coronation Street.
He sees online advertising as a powerful medium for stating the rational benefits of a product, though accepts TV can be stronger for emotional brand-building. "Use TV as your primary channel for effective brand-building and online for effective acquisition-driving," he says. "Both have their strengths and should be used across the customer journey – it is not a case of one versus the other."
The Internet Advertising Bureau also rejects the notion that the medium is in crisis, but concedes that issues such as click fraud and low viewability need addressing. Its director of research and strategy, Tim Elkington, says "the proof is in the pudding", pointing to the big increase in spend on digital display advertising as evidence that it must be effective, or brands would stop spending on it.
Surge in digital
Digital display adspend grew 22 per cent in 2013 on a like-for-like basis to £1.9 billion from £1.5 billion in 2012, according to April's digital adspend study by the IAB and PwC. Within this, digital video saw spend of £325 million, social media display £588 million and mobile display nearly £500 million.
Elkington says: "What's quite challenging about online is that it is moving very quickly. First there was display, then social media, then mobile. As soon as you've got to grips with what's out there, something else comes along." He suggests the important thing for brands is to define their objectives – whether boosting brand scores or clicks – and stick to them.
From a creative standpoint, there is a feeling that the industry has failed to make the most of display advertising.
"The truth is we haven't cracked it. We have come to regard pop-ups, banners, skyscrapers and sidebars as wallpapers to frame the page," Laurence Thomson, the joint chief creative officer and co-president at McCann London, says. "Can you imagine having the conversation with friends: 'Hey, have you seen that great new skyscraper ad that's just gone live?' Unlikely, right?"
But Thomson believes native advertising from the likes of BuzzFeed can be the way forward. "BuzzFeed has cracked it. No banners, no skyscrapers, no clunky click-throughs," he says. "Instead, it has gone native, with narrative-heavy, brand-promoted content that you want to read and share.
"The numbers speak for themselves – it claims the promoted content gets more than double the engagement a banner would."
Image issue
Some suggest there is a tendency to gloss over the problems of online advertising. As Ryan Kangisser, a partner at the media auditor MediaSense, says: "I don't think online advertising is broken, but I would say it is suffering from an image problem."
He believes there is a "conspiracy of silence" in the industry about the poor performance of digital display advertising but is hopeful that new approaches to measuring effectiveness and a new look at performance metrics will bring greater honesty to the discussion.
Kangisser points out that brands and agencies are just starting to get to grips with the need for visibility tracking and attribution modelling – assessing the effects of a wide range of online and offline advertising on a purchase – to replace old-fashioned measures such as CTRs and last-click attribution. The rising importance of attribution modelling is evident in Google's acquisition of Adometry and AOL's purchase of Convertro, both in May.
But the industry may not like what these new measures show. "There is a lot of fear about what the reality is behind those results," Kan­gisser suggests.
That said, getting a clearer view of online ad performance "would show it in a better light", he says: "If you discount ads that were never seen, your engagement rates will dramatically improve."
Rise of native
Stefan Bardega, the chief digital officer at ZenithOptimedia, agrees that using the right sort of measurement to attribute value is vital. Finding the most appropriate ad formats is also important. He explains: "As the world moves along, mobile banners become increasingly less appropriate. In the mobile world, native formats – those that integrate with the form and feel of the publisher – will prevail. This is a simple user experience issue." This is why 40 per cent of mobile spend goes to Facebook and Google's native formats.
Bardega adds that, with more display inventory becoming programmatic or auction-based, brands' own data will become increasingly important.
"In any auction environment, whether that be Sotheby's or DoubleClick Bid Manager, what gives the bidder an unfair advantage is information about the product they are bidding on," he says. "In the digital world, this means client first-party data. The more clients leverage proprietary data for digital advertising, the more successful it becomes."
Online display has many weaknesses, but solutions to these are being created all the time, with new services that factor viewability into the equation and aim to stamp out click fraud.
From a creative point of view, native advertising seems to offer a richer vein for brands. Online display ads may not be broken, but it could do with a makeover.