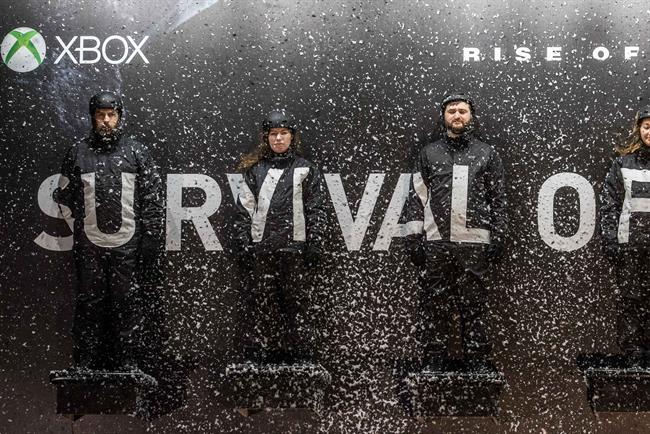 We spent our first two days outside the Palais like rabid dogs, chained as squirrels scurried just out of paw's reach.
Hungry.
We didn't brave a 14-hour journey from London to lose out.
We thought dogged perseverance would get us in. It didn't. We headed to the Opening Gala for a final punt at "luck".
We say luck, it was more like blind naivety. We didn't have a Festival pass, so we weren't getting in. No amount of blagging could change that. So we just strolled through the sandy "back door" and headed straight to the free bar.
That small taste of victory fuelled our thirst to get into the Palais even more.
By the end of our second day we'd sent out more messages than a drunk middle-aged divorcée on New Year's Eve. It was starting to pay off and by the next morning we were journalists. That was our ticket in.
We swear to you, when we were handed those warm, freshly printed passes, I heard angels singing, fireworks flaring and Usher's yacht landing (seriously, Usher was doing a talk on the hustle it takes to create your own success.).
We were finally in, surrounded by mind-blowing people and work.
From Samsung's brain-chiming rollercoaster VR; to Barton F. Graf's talk on collaboration and Iggy Pop questioning how many Armenians can fit in a VW.
But for us the standout campaign was the Xbox "Survival billboard" by McCann. Eight Lara Croft fans stood on a London billboard for 24 hours, faced with the harshest of weather conditions. The last one standing won a trip inspired by Rise of the Tomb Raider. It blurred the lines between billboard, experiential and reality game show, so didn't look like advertising at all. No wonder it scooped up 20 Lions.
As a creative team, it was inspiring to see the direction advertising is moving in. It gave us perspective on how we can shape culture with our work too.
But aside from all the glamour, we saw that there's still room for a lot of change in the industry. There needs to be more diversity. Matt felt like a coco pop in a bowl of rice crispies.
It's a current hot topic, but it needs to be followed up with action. What we do in this obscure industry needs to be advertised to young people. In most schools it never even pops up on students' radars.
After all, how can we expect there to be a diverse mix of people in the industry when knowledge of it is limited to the privileged few?