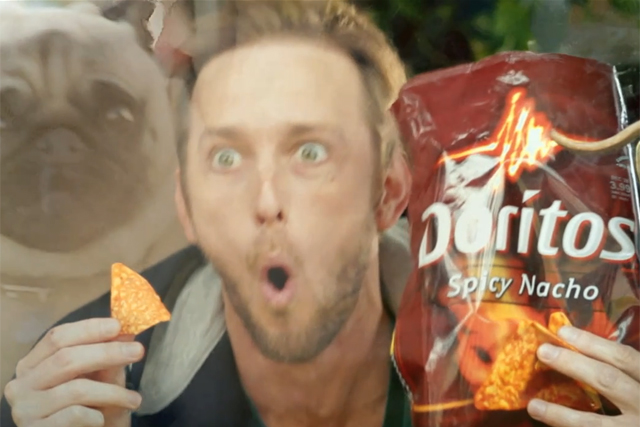 Bud Light "dog sitter" and Doritos "pug attack" were each rated 8.35 out of 10, topping national newspaper USA Today's poll, which gauged 282 volunteers' live reactions during the game.
Car manufacturers and FMCG brands dominated the line-up of more than 50 ads, which are estimated to have generated in the region of $200m for TV channel Fox.
"Dog sitter" featured a man employing trained dogs at an impromptu house party.
"Pug attack" repeated Doritos' past theme of a man teasing a dog with the snack and getting his comeuppance.
In third place in the USA Today poll was "the force", a Deutsch spot for Volkswagen about a kid in a Darth Vader costume who tries and fails to move objects with only the power of his mind.
One famous UK brand taking its place in the line-up for the first time was AB InBev's Stella Artois, which replicated its sophisticated French feel.
Mother New York's "crying Jean" showed a nightclub crooner singing heartfelt words of love, while the women in the audience well up with tears. It turns out the object of his affection is a glass of the continental lager.


Bud Light 'dog sitter' by DDB
Doritos 'pug attack' Goodby Silverstein & Partners
Volkswagen 'the force' by Deutsch
Stella Artois 'crying Jean' by Mother
Pepsi Max 'love hurts' by TBWA\Chiat\Day
Coca Cola 'border' by Wieden + Kennedy
Audi 'release the hounds' by Venables, Bell & Partners
Chrysler 'imported from Detroit' Wieden & Kennedy
Snickers 'logging' by BBDO
BMW 'Changes' by Kirshenbaum Bond Senecal & Partners
Mercedes-Benz 'welcome' by Merkley & Partners
Hyundai 'deprogramming' by Innocean
Motorola 'empower the people' by Anomaly
Groupon 'Tibet' by Crispin Porter & Bogusky
Read more on The Wall – VW "Darth Vader" Super Bowl ad racks up 14.5 million views.