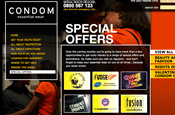 The activity, which is the latest in support of the Department of Health's Condom Essential Wear campaign, brings together a variety of brand partners such as fashion brands, universities and nightclubs in order to promote condoms as an essential everyday item.
The haircare brand Fudge is running a competition that offers consumers the chance to win a year's supply of Fudge styling products and Mates condoms, while Yellow Hammers Bars is allowing people to queue jump at its nightclubs upon presentation of a condom.
The promotional incentives will also be supported by a specially created Condom Essential Wear website.
Iris was first awarded the Department of Health's sexual health business in 2001. Since then the agency has worked on a number of initiatives for the organisation, including a partnership campaign in 2007 that saw Radio 1, 1Xtra and MTV make safe sex the "issue of the summer".
Steve Bell, the chief executive of Iris London, said: "This new activity is a breakthrough in partnership marketing because it sees very different brands working together on a single-minded aim. The fact that one message is being carried by several brands means the impact will be widespread."