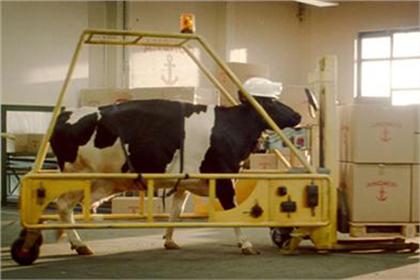 Advertising for the Lurpak, Anchor and Cravendale brands has won plaudits and now Arla is keen to raise its UK profile, John Tylee writes.
While thousands of people have had their mouths watered by Lurpak's latest TV commercial, it's a safe bet that only a handful could name the butter's manufacturer. And that's an imbalance Danny Micklethwaite has pledged to correct.
The company in question is Arla Foods, Europe's largest dairy products group, a household name in its Scandinavian heartland and a substantial UK advertiser with a £30 million budget supporting not only Lurpak but other familiar names such as Anchor and Cravendale.
Yet while more than 300,000 people have viewed the latest Lurpak ad on YouTube and drooled over its poster campaign with headlines such as "empires were never built on muesli bars", Arla's brand awareness among UK consumers is a less appetising 8 per cent.
You might wonder why raising that awareness substantially should be a high priority for Micklethwaite, Arla's UK marketing chief. After all, Lurpak is a £252 million brand that, according to him, puts it £52 million ahead of its nearest rival, Flora, even though it only overtook the Unilever brand little more than three years ago.
At the same time, he suggests Anchor has pretty much seen off Country Life's John Lydon-led attack on its New Zealand heritage with 10 per cent year-on-year growth, while Country Life has been in decline.
"Despite Country Life taking pops at us, the fact is that consumers have been using Anchor for a long time and its name gets passed from one generation to the next," Micklethwaite says. "It's up to us to strengthen those emotional bonds still further."
It's the building of those bonds that is leading Arla to raise its UK profile. "Consumers are becoming much more interested in the companies that make the products they buy and what those companies stand for," Micklethwaite explains. "We have to respond to that."
What's more, he believes Arla has a compelling story to tell, particularly about its environmental strategy. Having significantly reduced the amount of plastic in its packaging, the company is now looking at how to cut down the environmental impact of its transport needs and claims its soon-to-open dairy in Aylesbury will be the first of its kind to be carbon neutral.
Above all, there's a belief that Arla's heritage and structure will resonate with UK consumers. Not only does it have a long history, but it runs as a co-operative with more than 15,000 dairy farmer owners in Scandinavia, the UK and Germany.
Moreover, Micklethwaite is convinced the company can only benefit from prevailing consumer attitudes to eating properly. "Consumer perceptions of healthy eating are changing," he argues. "A few years ago, it was all about stripping out fat and taste. Today, consumers' relationship with food is different. It's much more about good quality and fresh ingredients."
Arla has already laid down its marker in the UK with Kids Closer to Nature, an online campaign that began in February to encourage children and their parents to explore the outdoors while promoting the company's ties to agriculture and farming.
Meanwhile, it plans to kick off new advertising this month to coincide with the company's 125th anniversary and to make £200,000 worth of grants to outdoor community projects.
Although Arla's increased confidence about the future is reflected in a 20 per cent increase in its UK adspend last year (its 2009 spend was cut for the first time in a decade) and the fact that it has drastically cut the number of price promotions, Micklethwaite is under no illusions about how tough the market remains.
Consumers facing wage freezes, tax rises and, maybe, unemployment aren't good news for advertisers at any time. And certainly not for those such as Arla with a stable of premium-priced brands.
Just to make matters worse, dairy products are a major part of the ammunition in the supermarket war with increased promotional activity resulting in value decline.
Add to that global increases in the price of dairy products and the lack of scope for product innovation in the sector - although Arla has plans for further line extensions next year - and the true scale of the challenge becomes apparent.
Micklethwaite believes the answer lies in a clear strategy. "Of course consumers want to reduce their household spends and we have to help them do that," he says. "But we're also about building brands for the long term and building brand equity in consumers' minds. So we have to put investment behind those brands."
However, he promises that last year's consolidation that saw Arla's £100 million pan-European media account move into Carat won't be replicated with the company's creative agency roster.
That comprises CHI & Partners, which handles Anchor, Wieden & Kennedy, which has Lurpak, Cravendale and Lacto-free, Abbott Mead Vickers BBDO, which is responsible for global brand building, and Mother, which has been developing work for Arla's cheese brand Castello.
Micklethwaite argues that the size of the roster is unimportant as long as those that are on it do the best possible job. Certainly, Arla isn't a serial reviewer - it previously enjoyed a lengthy relationship with DDB and retained both CHI and W&K five years ago.
"If we feel creative work isn't driving growth, we're not afraid to review," he declares. "But it's very much a last resort."
Clearly, W&K has done its long-term prospects with Arla no harm with its "cats with thumbs" TV ad for Cravendale, which continued the brand's commitment to "weird and wacky" advertising.
And the agency has also won plaudits for its press and TV campaign for Lurpak, which is spearheaded by the "kitchen odyssey" film aimed at deterring people living busy lives from making bad "dinner in a box" food choices.
"Although we saw from the beginning that this had the potential to be an epic film, we weren't really sure how it would turn out," Micklethwaite confesses. "But when the agency showed us the first edit, we knew our expectations had been exceeded. It was brilliant."
MICKLETHWAITE LOWDOWN
A grand title
Danny Micklethwaite is a little embarrassed about what he admits is his somewhat pretentious job title - the vice-president of marketing at Arla Foods UK. It certainly isn't something he likes to boast about to his mates "because they're always looking to take the piss!"
Degree of choice
Growing up in Leeds, Micklethwaite knew from an early age that marketing was what he wanted to do, and it was his degree subject at Lancaster University. "I've always been fascinated by the way creativity can be linked to business performance," he says.
Getting the timing right
He began as a graduate trainee at United Biscuits, where he remembers an early lesson in marketing effectiveness as an eager young member of a field sales team visiting corner shops and cash-and-carry stores.
"I was ready with my 30-page presentation to one store manager," he recalls. "I'd only got to page three when he asked me: 'So what's the best deal you've got for me today?'
"I realised then that if you can make your case within two minutes, you are much more likely to leave with a sale."
Milking the market
Micklethwaite made his way up through the ranks at Arla Foods after joining as an assistant brand manager in 2000. He has been the UK marketing chief for the past two years.