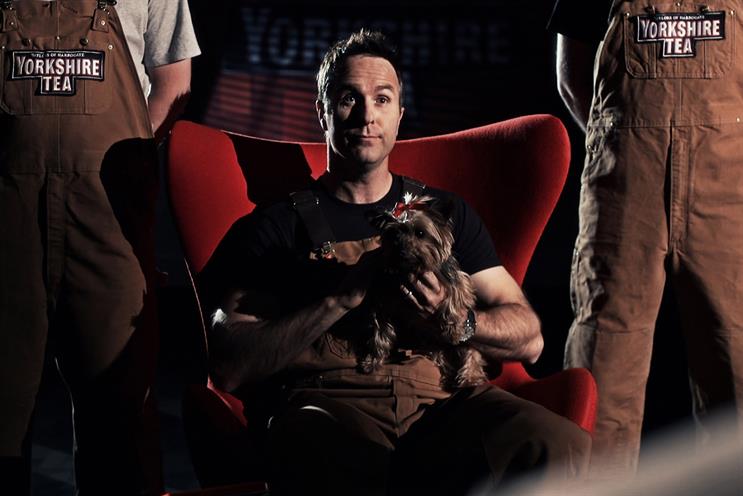 Tell us something about the making of this film. We make a fuss about Yorkshire Day (1 August) every year and, because we're now the official brew of English Cricket, we figured we could bring the two things together – especially when, on the day itself, we would be at Lancashire County Cricket Club dishing out tea at the Ashes.
We started with the idea of a Yorkshire Tea invasion being interrupted by a Lancastrian, but it was only when we started interacting with Michael Vaughan and David "Bumble" Lloyd that we saw their comedy duo potential.
Next thing you know, we've got a bunch of Yorkshire Tea staff pretending to paint white roses on the pitch and getting "rumbled by Bumble", followed by something even sillier when Vaughany gets to express his inner Bond villain.
How did you manage to get such a good performance out of them? We noticed real chemistry between them. They were really natural and up for a laugh.
How did you come up with the idea? It was a team effort. The main idea came from two of our team – Kevin Sinfield, the tea marketing manager, and Sam Ward, the brand PR manager. We then brought in Limehouse, a local production company, and collaborated on a refined script – including the tongue-in-cheek ending.
Why did you do it yourself rather than use an ad agency? It's in the nature of our family business to do things ourselves wherever possible. That means we're well-suited to a world where social media enables brands to communicate directly with consumers. But we know our limits and recognise when and where agencies add value.
How did you get your current role and what else are you responsible for? I started as an in-house copywriter. Then social media happened and I found myself involved in more of the strategic stuff. That has evolved now into being the brand comms manager and running an internal function that covers PR, experiential and social media for all Taylors brands.
What are you working on next? We've got a couple more surprises up our sleeve… watch this space!
What's the best thing about Yorkshire (other than the tea)? I'm a sucker for the land itself – the rolling hills dotted with villages and the huge, untamed landscapes. It certainly helps make our packs distinctive!