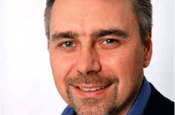 Clark left the chief executive role earlier this week after being appointed global chief executive of GroupM's Maxus network.

GroupM global chief executive Irwin Gotlieb said: The GroupM EMEA team, under Kelly's and Dominic's leadership, has done an exceptional job building our business, increasing our market share, and helping our agency networks grow.

Dominic's promotion is well deserved. His strong operating experience and his deep understanding of the European business will ensure that our momentum continues.

Grainger has served as GroupM EMEA managing director since 2005. He was previously chief executive officer of Mediaedge:cia Europe, Middle East and Africa and prior to that he was chief operating officer at CIA.

Grainger said: I am delighted to be taking on this role. We have a great team of people across the region and I look forward to helping them continue to grow our business.

"We will continue to support the media agencies to enhance their delivery and develop the business in new areas and markets.