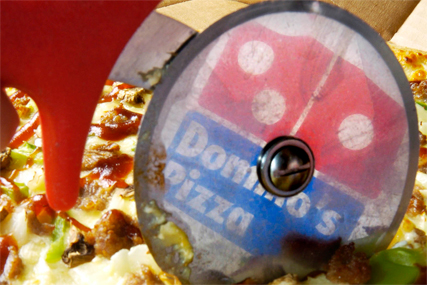 Domino's Pizza has reported a 29% surge in pre-tax profits to £17.5m, buoyed by a strong performance from e-commerce sales and attributed its link-up with Foursquare as key to its recent performance.
The takeaway company reported a like-for-like sales increase in 553 stores by 13.7% in the 26-week period to the end of 27 June this year.
Domino's now has 627 stores in the UK after 19 new stores were opened in the period. The company said it was on track for a further 55 store openings this year.
The group – which is celebrating 25 years of business – highlighted its e-commerce business as the stand-out performer.
It said sales in its e-commerce unit had grown by 61.4% in the period and that online sales now accounted for 32.7% of overall UK delivered sales.
In May this year, Domino's launched a nationwide promotion on Foursquare that encourages users to check-in at its outlets.
In today's financial results Domino's said it had "led the way with social media initiatives such as affiliate marketing, our superfans programmes and the development of a link up with Foursquare, the location-based social media site".
It added that its web-based activity had afforded it the dual benefit of "driving pizza sales" and "building customer loyalty".
Chris Moore, chief executive, said: "It is easy to try and attribute our success to one thing – be it the weather, or Britain's Got Talent, or the World Cup – but the underlying trend shows a more compelling picture."
The results confirm the theory that takeaway food brands perform well in the economic downturn, as consumers opt for less expensive offerings.
At the start of the year, Robin Auld, the group's sales and marketing director, announced that he was leaving the pizza delivery company. Auld was replaced by former Papa John's and Pizza Hut marketer Simon Wallis, who started last month.