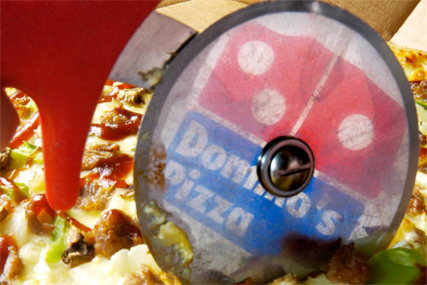 Domino's is claiming to be the first major delivery chain to provide a pizza suitable for coeliacs and those who are gluten intolerant. They will cost the same as Domino's other pizzas.
Domino's says it is launching the pizza due to public demand. The launch of the gluten-free offering will initially be supported by PR activity, which could be followed by above-the-line work.
The new pizza base will be suitable for those who are allergic to dairy or lactose intolerant, and as with all Domino's pizzas, are made to order from scratch. They can also be ordered without cheese to provide a dairy-free pizza.
Simon Wallis, sales and marketing director for Domino's, said: "It's been a long time coming but we can't wait to officially launch our new gluten-free pizza. We've worked long and hard with Coeliac UK and our new product development team to develop a product which is not only gluten-free but really tastes great too.
"We hope the product will bring the enjoyment of pizza to a new set of customers who, until now, haven't been able to tuck into a Domino's with their friends and family."
Sarah Sleet, Coeliac UK chief executive, said: "We know that eating out safely is a top concern for people with coeliac disease, who must follow a strict gluten-free diet for life. We are working with the catering industry to help them deliver good quality menu choices for people with coeliac disease and are delighted that Domino's is recognising the importance of catering for this market."
Domino's also recently began offering a movie-streaming service alongside its pizzas with the launch of its Domino's Pizza Box Office service.
Follow @nickbatten2