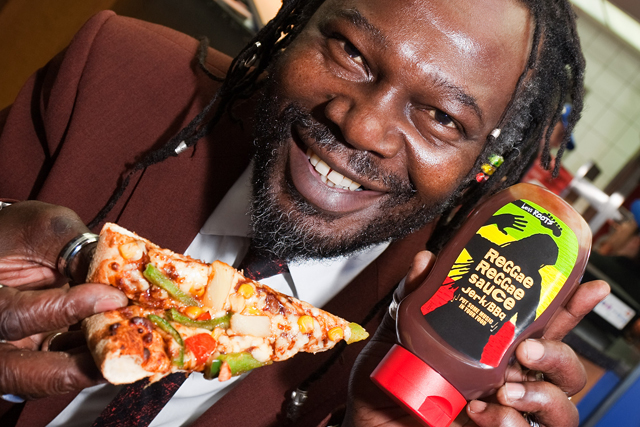 Domino's is rolling out its new Reggae Reggae pizza nationwide from April this year.
It's uses the Jamaican reggae musician's original Reggae Reggae sauce and is topped with roast chicken, tomatoes, green peppers, pineapple and 100% mozzarella cheese.
The pizza will be previewed for one week exclusively on Facebook, where fans will be asked if they would like to try a large-sized Reggae Reggae pizza for £9.99.
Further marketing support will include branded Reggae Reggae pizza boxes and a PR campaign. Domino's franchisees will also run localised marketing activity.
Simon Wallis, sales and marketing director at Domino's, said: "We receive lots of new product suggestions from customers and this pizza came about when of our franchisees decided to give the idea a try."
Customers can either order the pizza online, visit stores, or download their order from the free Domino's app, which has proved a hit with its customers.
Roots came to the nation's attention on BBC's 'Dragons Den' in 2007, where he pitched his Reggae Reggae Sauce. His other brand links up include a branded tie-up with Vimto.
Domino's updated the City on its trading performance today (Wednesday) and revealed like-for-like sales in 608 stores had grown by 4.2% in the 13 weeks to 30 March 2011. This compares year-on-year to 10.5% growth in 553 stores.
The company blamed its slowdown in growth on "challenging comparatives" and its performance in the Republic of Ireland.
In the UK, which makes up 92.6% of sales, like-for-like sales are up 5.5%. Republic of Ireland sales are down 10.5%.