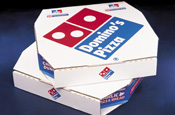 In an audacious move, Domino's UK operation has trademarked 'The Domino's Natural' and 'Natural Rustica'. It is no coincidence that in August Pizza Hut US began testing pizzas of the same name in Florida and Texas.
The pizzas in question use sauces made from organic tomatoes and toppings without artificial preservatives. To enhance its premium credentials, the range is made from a multi-grain crust of traditional pizza dough and wholegrain infused with honey and olive oil. A wider roll-out in the US is expected after the two state trial.
Domino's Pizza sales and marketing director Robin Auld said: 'We are frequently registering trademarks as part of our ongoing new product development programme and this often includes names used by Domino's and other companies in other countries.'
A Pizza Hut spokeswoman responded by saying it was 'flattered that Domino's is using Pizza Hut innovation in the US as inspiration'.
However she said there were no plans at present to launch the Natural and the Natural Rustica in the UK.
But if the innovation does make its way across the Atlantic it may have to be traded under another name. A legal source said Pizza Hut should have considered trademarking the product globally to prevent this kind of action but also said that the move could also be seen as 'bad faith' on the part of Domino's as it appears to have been made as a direct response to the US launches.
Meldrum Duncan, the New York managing director of innovation company ?What If?, said: 'The question is, did Domino's do this because as a serious commercial proposition or are they seeking to create a common enemy for internal PR purposes?
'Either way it is never going to replace real innovation.'