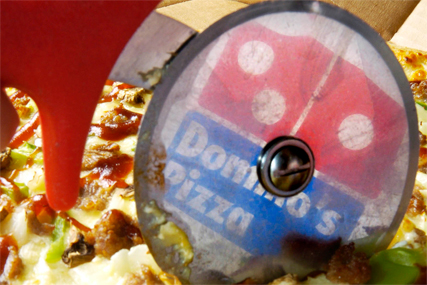 Pre-tax profits at the pizza takeaway business rose 14.8% from £17.5m to £20.1m, in the 26 weeks ending 26 June.
Sales increased 9% to 258.4m in the period.
Domino's has made ecommerce a central plank of its business in recent years, in a bid to diversify its business and lock in a younger demographic of pizza eaters.
Online sales hit £85m in the period, compared to £56.9m the year before. Online sales now account for 41.9% of UK-delivered sales.
Domino's has been using Facebook to launch new brand campaigns and has been using QR codes as a marketing tool.
During the period, 22 new stores opened and one store closed.
Chris Moore, chief executive of Domino's, deemed the first half of the year "tough", but said he was confident of the performance of the business in the second half.
He said: "Our marketing spend to the year end will be three times the amount for the second half of 2010 and, combined with some great new products and a heavyweight brand campaign in the coming months, we are very excited about the future."