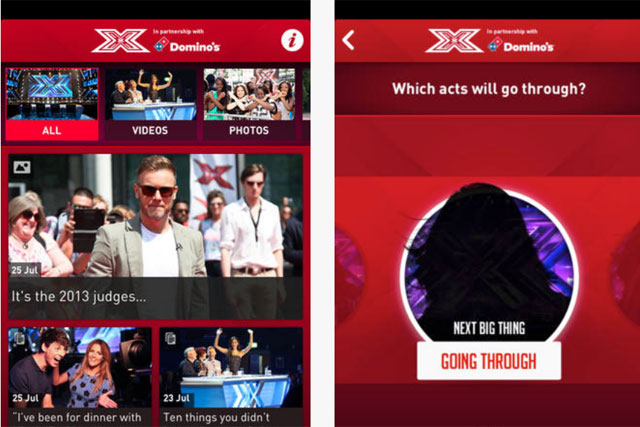 The new app allows viewers to act as the "the fifth judge", letting them give real-time feedback on performances as they watch the show and predict who will make it through to the next round.
As they progress through the game, players will receive Domino's offers. Interactive messages from the pizza chain will be synchronized with on-air spots via Ad Sync, ITV's dual-screen ad format.
The dual-screen format will feature branded games, designed by Iris, which offer players Domino's deals and personalised promotional codes based on the success of their gameplay.
Within the app, users will also have access to a "Domino's hub", allowing them to interact with the brand and receive a range of Domino's rewards.
ITV Commercial, the production company FremantleMedia UK and the Havas media agency Arena, on behalf of Domino's, negotiated the partnership.
Kay Tasker, a business director at Arena, said: "This is an exciting partnership highlighting the ever-increasing importance of mobile in the media landscape.
"With multi-screening booming, integration with this engaging 'X Factor' app will further solidify Domino's place within the family entertainment sphere, while highlighting the pivotal role mobile plays in its customer strategy.
"It is yet another example of our work to keep Domino's firmly ahead of the curve in the digital media space."