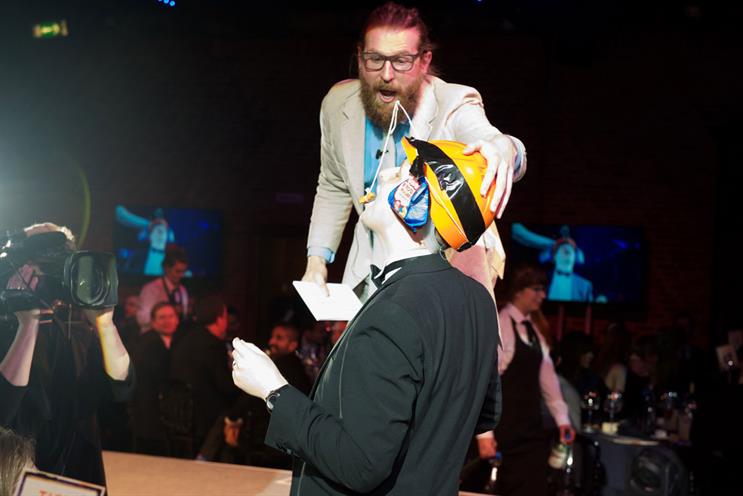 Have you ever seen a live sex chat over webcam at an awards bash? Nor had those unsuspecting people who attended the Marketing Agencies Association's Best Awards on Thursday last week. Sanderson Jones, the comedian and host for the night, invited a lady on to the stage to sit in front of a laptop, with a white sheet behind her to hide the audience. On the laptop appeared a naked man with an erection, who presumably thought he was going to have virtual nooky with a like-minded soul until the sheet was pulled away to reveal the audience behind the stooge: the webcam cut out shortly after. The theme of the night was "do different" – this was certainly that.
We're victims too
WCRS's digital billboard for Women's Aid in Canary Wharf showing battered women's wounds healing when people stop and look was an innovative idea, but it hasn't pleased everyone.
On the morning of the launch, the media owner Ocean had to field a concerned call from Canary Wharf Management (the ultimate owner of the billboard). CWM had received complaints from people worried that they would show up on the billboard's face-recognition panel just as it was being filmed or photographed for the news, implicating them as a violent misogynist by juxtaposition. There was no chance of this in reality because the billboard automatically obscured people's faces, but it's amazing how some people's minds race.
Now you see it
Someone was so struck by the similarity between Now TV's new campaign (above, left) and Freesat's recent work (above, right) that they felt compelled to get in touch with Campaign. After examining the evidence, Diary feels inclined to agree that there is an uncanny likeness.