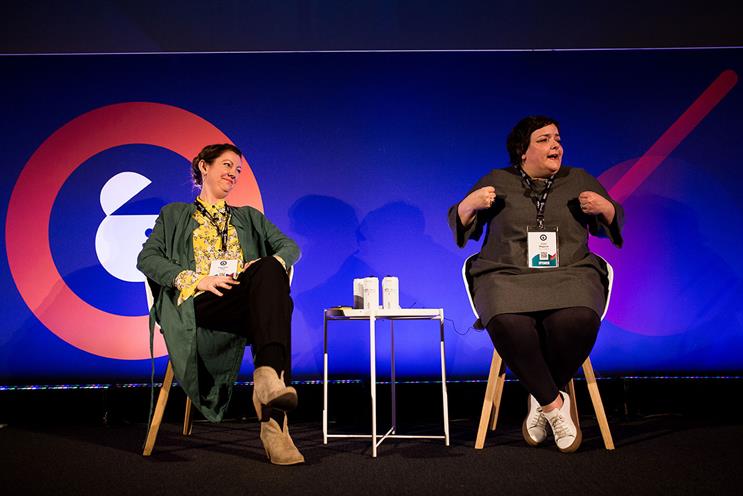 Speaking at the "Why F**k Ups are Fundamental for Creative Futures" session at Advertising Week Europe, the pair said that while in science failure is considered a 'learning', in advertising the opposite is true.
Speaking of their own failures over the years they said that they now embrace failures for the risks that come associated with it. Maguire said: "When you can sit with someone and admit failures you get to a more interesting place and the fear of failure goes away."
Maguire also said that it restricted progress. "You have to let go of the fear of trying new things, as new things will get this industry out of the shit it's in."
The pair came up with a Top Ten list of why failure doesn't really matter:
1. Remember no one will die.
2. Don't have a 'Plan B'. "If you have nothing to fall back on you're more likely to go fuck it and come out all guns blazing. When you have nothing to lose you can lose nothing. Go Plan A all the way," they said.
3. Thank the people who failed you and "learn more from the arseholes you've" worked with.
4. One-downmanship is better than one-upmanship. "When you're having a tough time, which [the industry] as at the moment, remember that someone is having a worse time than you."
5. Have a 'fuck-off fund'. Have three months rent and bills put away so that if you end up in a place that's failing you, you can leave.
6. Hire failures. "We ask people what are their biggest fuck ups – and how they bounced back. We genuinely think its good to work with people who have got something to prove," the pair said.
7. Exercise your failure muscles – learn to bounce back. The more you fail the better you get.
8. Fuck "imposter syndrome". "It's not very human and particularly not very female to admit that it exist. You're paid well to have an opinion. Imposter syndrome is fear in another form – being coy is unhelpful," they added.
9. Fail out loud. "Regardless of your title you don't know all the answers – nobody does as soon as you admit that and once you let that ego go the better you'll be. Change your mind and be open when you fail - admit defeat," they said.
10. Fail together. "You are in it with the team. Failing together makes it all worthwhile," Pay said. "It's really important that we lose this fear of fucking up because if we don't fail now nothing will change. Unless we try something we're not going to get out of it [the current situation]. Approach failure it in a different way. Don't hunker down – the more you fail the more power it [failure] loses."