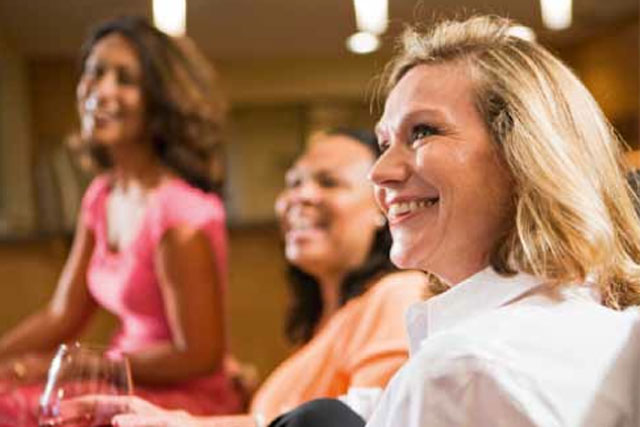 The Oxford English Dictionary definition of a housewife refers to the "traditional divi- sion of labour between the husband as breadwinner and wife as housewife".This was a woman who was principally concerned with keeping her home tidy and her children well fed.
It doesn't take a sociology degree to work out that this is a definition that is entirely outdated.
Earlier this year, the publisher IPC Media began a long-term project to research and redefine the demographic it has named GenerationYnot!. These are women in their forties and fifties, a group whose attitudes and lifestyles have changed significantly during the past 20 years. Making up 50 per cent of the female full-time workforce, women belonging to GenerationYnot! are richer, more powerful and better connected than ever before.
IPC Media, whose brands include Woman, Woman's Own, woman&home, Essentials and Goodtoknow, has spent the past six months on an in-depth research project to discover more about this group. It has adopted the term "Family CEO" to more accurately describe the woman who may be as keen as her 1950s predecessor to look after her home and family, but has very differ- ent ideas about how to go about it.

The changing nature of family
The research found that women believed the con- cept of family has changed greatly (64 per cent of GenerationYnot! women say this). A greater number of women in their forties and fifties are single, but may still regard themselves as run- ning a household, and family can now be inter- preted as including friends, godchildren, step- children or pets. This is also the generation that may well be juggling looking after parents as well as teenage children. And with birth rates among the over-40s rising all the time, they may well be starting a family. Fundamentally, this is a demo- graphic that defies easy categorisation accord- ing to life stage.
But what does unite them, IPC Media says, is the sense that they are the key communicator, motivator and decision-maker when it comes to household organisational matters, as well as most consumer choices – hence the term "Family CEO". Character traits such as passion, vision, confidence and ability to network, the kind that companies expect CEOs to possess, are exactly what many GenerationYnot! women display.
They are far more confident and self-possessed than their younger counterparts. These women are happy to assert their consumer rights – 59 per cent of the Luxury CEO sub-group say custom- er service is important to them.
And they are undoubtedly in charge of their own household empire. Compared with under-40s, the GenerationYnot! woman is 24 per cent more likely to make "all or most" of the household finan- cial decisions.And she actively spreads her knowl- edge among friends, with 68 per cent reporting that "people trust me to give good advice".
In short, Family CEOs are a dynamic target audi- ence. But media-buying briefs commonly target them according to an outdated view of their life- style and influence. Is it time you looked again at how you target this group?


IN THEIR OWN WORDS

"My generation were brought up to expect more from themselves and others, and are less easily pleased. We want more help and a social life in return for having
a career ourselves – our horizons have broadened"

"Every time I went on this website, an ad for some menopause tablet or something came up, and I hate that because, yes, I am in that age range, but that is not who I am"





Luxury CEO

The Luxury CEO is the most established of the three groups. They are slightly older, have more life experience, more money to spend and are more likely to be ABC1. They are socially active, so have a bigger network to influence, and word-of-mouth is prevalent. Seventy-nine per cent of them say "people trust me to give good advice". She is an active influencer and the most confident among these groups. She is also highly experimental – almost all the women in this group say that they like to try new food products.


Savvy CEO

At the opposite end of the spectrum is the Savvy CEO. They really are doing everything. They are watching their cash flow and influencing every decision that comes out of their households. They are more likely to be single, and it is the youngest group here. The Savvy CEO is more digitally switched-on than the other two groups, using social media and smartphones as much as those younger than her.


Core CEO

The Core group is the Family CEO in its purest form. These are at the heart of the growth of the economy. They might be suffering growth pains because of their financial status and responsibilities. However, while they do not feel it all the time, they have more freedom, and her responsibilities are more shared between her and her partner. They want it all; kids, money, a career, a network of friends... they are busy, but don't mind it!
Go to www.generationynot.co.uk for more details on the research.