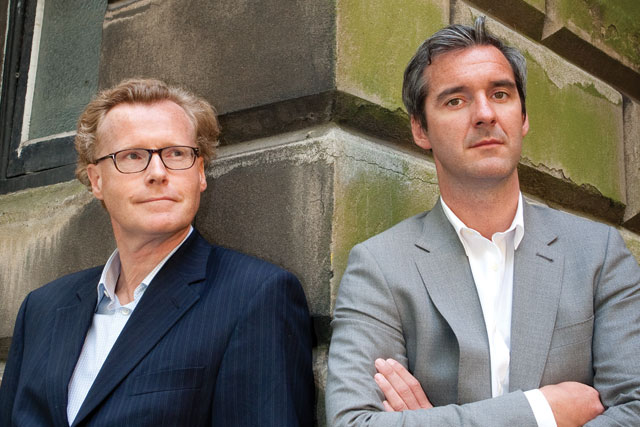 Integration in structure and execution has long been accepted as a solid approach. Integration that supports the business at its core purpose and extends out through marketing to customers is proven to be powerful and effective. And different ways of engaging with agencies suit different clients - some prefer an integrated agency, some prefer a group of specialists. But whichever way you look at it, integration is widely lauded as the best approach.
The advent of digital and, especially, social has clouded our view though. Things appear more complicated, we have a bigger armoury of solutions to a lengthening list of problems. And we don't seem to be as in control any more (were we ever, really?). What shall we do?
We need a different type of integration. One that is capable of embracing the changes, rolling with the idea that different types of answers are required, and that - gasp - may not require media spend. That, in fact, may not feel like advertising at all. We need a model of integration that can embrace digital in all its forms.
And the answer is in forgetting about integration.
People out there, our customers, do not seem to be having integration problems. They are just getting on with their lives. We are guilty of forgetting that we're a bit weird. We don't look at the TV in the same way that our friends and family do. We don't use Twitter in the same way. They have their life. They don't have compartments for different media.
Digital, social, experiential are simply things that surround them; things that are just there. We live in a digitally integrated world, and our approach to integration must adapt to reflect that.
This development has particular pertinence to the future of integrated agencies. There's a whiff of dinosaur around many of them at the moment. To remain fit for purpose, integrated agencies must evolve to ensure they are able to compete in this digitally integrated world. If they haven't done so already, then they are in trouble.
Structures need to change, new skills need to be learned and cultures need to evolve. The fundamental challenge is thinking with digital baked in - not as a bolt-on or as a specialist product - inherent in everything we touch and do, just like it is for our customers.
Some wise person once uttered words to the effect that 'technology is something that happens to you after you're 30'. (Who knew how to programme the VCR in your household?) For the younger generation, technological advances are simply life.
Our children are now born into a world of Skype and touchscreens. They are already digitally integrated. They don't need to think about it.
The conclusion from that discussed so far is that investment in the next generation is critical to the continued success of integrated agencies. Finding and nurturing talented youth is fundamental to our approach at MBA. This materialises in a few different strands, but revolves around an 'academy'-style internship programme, graduate recruitment and also an apprenticeship programme.
Digital natives
This isn't just a sop to the woes of unemployed graduates or bandwagon-jumping to show just how nice we are, it is a critical part of the agency's future. By adopting this approach, we are bypassing the issues that many of our competitors are facing. We are prepared for the digitally integrated world by employing people who have never known that 'digital' didn't exist a few years ago - people whose entire conscious life has featured respectably fast internet access, YouTube and Facebook.
This investment doesn't stop at recruitment. It is also about nurturing a culture that embraces creativity in all its forms - treating creativity as a discipline rather than a department or process. Good ideas can come from anywhere, but you need to go hunting for them. We encourage everyone to voraciously find and share the interesting, the novel, the awesome, so that we all have a broader experience to draw from.
We actively seek opportunities for our staff to go into the wider world and return with riches gleaned from other industries and perspectives.
One such example was the inaugural Squared - the IPA-supported programme created by Google and Hyper Island - that has provided a fascinating insight into their world and ways of working, in addition to solid training in search and other areas of Google's business.
Bringing insight back from overseas cultural exchanges and the like has also proven beneficial, especially on some of our international business such as Embraer Executive Jets, helping them to grow in China.
Exposure to the cutting edge of technology is also very close to our heart. Technology can be a catalyst for new ideas as well as provide new ways to explore existing ones. Involvement with projects such as the collaboration between The Marketing Society and SeedCamp (a seed fund for internet technology companies) and the IPA's tech accelerator helps keep fingers on the pulse and the excitement high - as do regular visits from technology companies who come to show their wares and discuss ideas for clients.
(As a slight aside, these tech presentations are, at once, both a delight and a frustration. There are some wonderfully interesting developments. But the presentations often focus on ways in which this technological delight can be used to simply interrupt people in newer and whizzier ways. They seem to have missed the point that widgets that replicate interruptive ad models aren't necessarily the answer.)
In a few years, the approach to integration outlined here - one engineered for a digitally integrated world - will simply be the way it is done. The question will be gone to the extent that the concept of integration as a possible approach becomes redundant. It will implicitly be the approach; it is how you choose to deliver it that remains a debate.
We suggest that now is the time to finally drop the word integration. The story has moved on to a more interesting place. MBA's purpose is to provide creative solutions to clients' business problems, in whatever form that requires. We are already living in the world where digital is not a separate entity and we continue to invest to strengthen this by looking to youth, by looking to the future. We are a creative agency for a digitally integrated world.
TAKE-OUTS
- All creative agencies are, or should be, integrated.
- The key is whether they are prepared and configured for the digitally integrated world.
- To prosper in this environment requires investment in the next (digitally native) generation, in pulling ideas from anywhere and keeping at the cutting edge of technology.
Stephen Maher is the chief executive and James Middlehurst is the managing partner of MBA